An especially beautiful book with ancient words retold by Katherine Paterson —
BROTHER SUN, SISTER MOON,
Canticle of the Creatures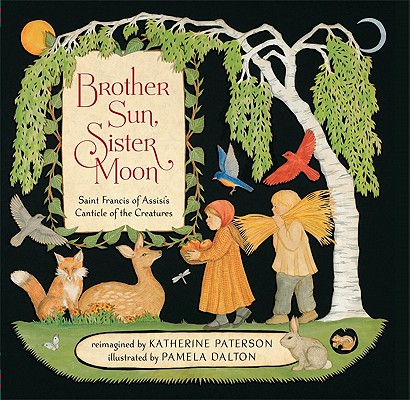 Katherine Paterson and illustrated by Pamela Dalton
                  This book is a gift to anyone who reads one page, pauses to take in the wonder of the illustrations, or continues through the book from start to finish…and begins again.
Saint Francis of Assisi wrote the original words praising the wonder of nature were written in 1224.  Katherine Paterson's adaptation sings out with timely meaning to young and old.  The illustrations by cut-paper artist, Pamela Dalton, are simply stunning.  What a trio – a saint, an award-winning artist (her first children's book!), and a children's author whose work has been recognized with Newbery and National Books Awards and who was chosen as our 2010-11 National Ambassador for Young People's Literature.
 
"Each of Dalton's amazingly intricate illustrations is cut from one continuous piece of paper. They are so complex that they stand alone, and they work perfectly in concert with Paterson's text."
 This beautiful book is a treasure to share with any-age child.