Welcome back to the Morris Award Finalist Blog Tour, where I am posting at the last minute due to shoveling more than a foot of snow from my driveway, sidewalk, and roof and then being too tired to do anything except take a nap. And what excellent timing to focus on a novel where the setting—full of mystery, folklore, fog, rain, and snow—becomes a character in itself.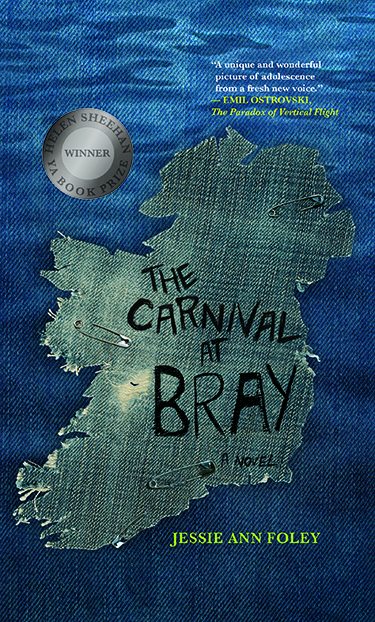 The Carnival at Bray is the first YA publication of a new Connecticut-based literary publisher, Elephant Rock Press. Author Jessie Ann Foley won a manuscript contest for this novel, and that first win served as the beginning for many other accolades. In addition to its status as a Morris finalist, given to outstanding YA novels by debut authors, The Carnival at Bray was just named a Printz Honor Book. The Printz is given to outstanding YA novels, debut or not, and Foley will receive her prize along with established authors Jandy Nelson (the Printz winner for I'll Give You the Sun), Jenny Hubbard, Andrew Smith, and Mariko Tamaki.
The Carnival at Bray portrays Maggie, an Irish-American teenager living in Chicago in 1993 with her mother and younger sister, her beloved grandmother and her equally beloved but troubled uncle, an aspiring rock musician who introduces her to Nirvana. Maggie's mother has made poor choices in men in the past, and Maggie is not happy when she marries an Irish man and uproots her and her sister to live with him in his family's village on the Irish coast near Dublin. Foley shows, poignantly, the difference between being "Irish" in Chicago and being really Irish, as Maggie experiences culture shock and has difficulty making friends in her new school. Through the village patriarch, she meets Eoin, whose family owns a popular tavern, but tensions arise between the two families when Maggie's Uncle Kevin visits over New Year's and starts a bar fight. Eoin's parents try to break the couple up. Maggie worries about Uncle Kevin, who drinks too much and may be using heroin as well, much like his (and her) hero, Nirvana guitarist and frontman Kurt Cobain.
A pair of tickets to a Nirvana concert in Rome, and a clandestine road trip add suspense, as readers come to love Foley's thoughtful and determined protagonist and her kind and sensitive boyfriend—so different from the other boys Maggie has met and the men her mother has married. Maggie doesn't want to break off from her family, but both Uncle Kevin and her new friends in the village of Bray make her believe that she, too, deserves to be happy. She and Eoin are star-crossed lovers, and Foley explores through vivid language and symbolism the conflict between her loyalty to her family and her love for Eoin.
Narrated in a close third person from Maggie's point of view, The Carnival at Bray immerses readers in a time, a place, and a community of people that they will not forget for a very long time.
For more information about the Morris Award Blog Tour and previous stops here and at other blogs, visit the Cinco Puntos Press website.