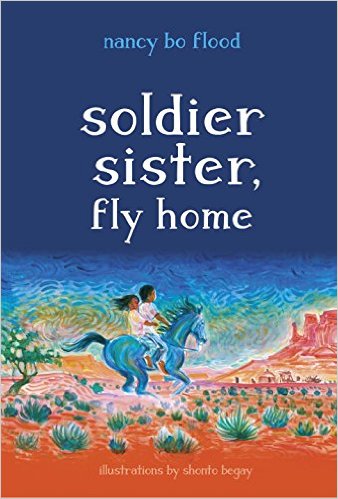 "Right now, this moment, this night, here felt good. I was me – not part white, part Navajo – just me, sitting quietly in the night. The Milky Way was a river of stars – millions of universes."
from Soldier Sister, Fly Home by Nancy Bo Flood with cover art by Shonto Begay, Navajo
As in Nancy Bo Flood's award winning novel, Warriors in the Crossfire about the indigenous people of Saipan, Soldier Sister, Fly Home opens with lines of a poem that invite the reader into the rhythm and language of a culture.
Tess is part Navajo, part white and part of her story is the story of many Americans: figuring out who we are with our disparate parts and maybe finding the whole of ourselves. Tess's life is thrown upside down by her older sister Gaby's decision to enlist in the Army. When she goes, Gaby entrusts her mustang, called Blue, to Tess's care, a horse that to Tess is wild and dangerous and she has sworn not to ride him.
A power of the novel is in the physicality of the setting, the terrain of the Navajo Nation, the canyons, desert, the danger of a rock wall split in two they call "Knife Cut, wind that "hit like sandpaper", a land described in Tess's grandmother's warnings, "Hot sun. Flash flood." Grandma also warns, "Injury from thirst or drowning. No second chances."
The novel unfolds the summer after Gaby is deployed to war and Tess and her grandmother work at sheep camp with the family's flock. Flood keeps the reader close to the land, the need for animals as food, the sacredness of sunrise.
From page one there are clues that Soldier Sister is a novel of a young girl's growing understanding of living with the knowledge of dying. With her grandmother, Tess will understand. Her heart grows, and a courage is required that the storytelling foreshadows, but will break the reader's heart.
I imagined the 10 or 12-year old reader discovering Soldier Sister and that the story would shift her life. She might never have met a Navajo child, but now she's met a girl and her grandmother painted with the deepest respect. The reader also learns the story in the Author's Note about a real Hopi-Mexican American soldier, Lori Piestewa, who died in combat and was loved by her people and the country. Flood offers a bridge between cultures for children. For just a while, we all can be Tess and imagine how it changes a girl who discovers the vastness of life and rides a horse named Blue.
In a letter to readers, Flood wrote about the memorial held for Lori Piestewa. Many of Flood's students where she taught at the Navaho college in Tuba City had also enlisted, and Flood had gone to the memorial. Flood writes, "The memorial reminded me of when my sister died. She was five, and I was only seven, but somehow my child heart felt that I should have prevented it. Like Tess, I eventually learned that I cannot control life or death. But I can write about it. And so I wrote this book to understand, to heal, and to share."