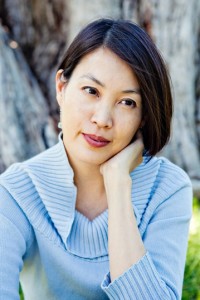 Yesterday I reviewed Stacey Lee's new historical novel, Outrun the Moon, featuring an independent and ambitious 15-year-old Chinese American girl who talks her way into an exclusive girls' boarding school in San Francisco in 1906, only to be cut off from the rest of her family and fighting for survival during that city's devastating earthquake and fire. Stacey has stopped in for an interview, and if you'd like to know more, please add your questions to the comments.
Why did you choose the 1906 San Francisco earthquake and fire as the focus of the novel? Do you have a family connection to the story?
My mother is a native San Franciscan and my Dad immigrated to San Francisco from China in the 1950's. So yes, family is the reason I chose the setting for this particular novel. Chinese weren't counted in the death toll for the earthquake, which generally reflected society's antipathy toward the Chinese at that time. But even though they weren't counted, the earthquake had a silver lining for Chinese Americans. The great fire that followed the earthquake destroyed birth records, allowing Chinese men to claim for the first time that they were US citizens, and therefore entitled to bring family from China. This created a loophole around the Chinese Exclusion Act, which prohibited Chinese from migrating to the US for over sixty years. My dad was one of the 'paper sons' who immigrated to the U.S. using false papers bought on the black market. So the earthquake really changed the landscape for Asian Americans, and I wanted to bring this little told story to light.
What a great story – talk about the law of unintended consequences! So, for all us fans of historical fiction, how did you research your story? What sources did you find most valuable?
Besides the typical research methods of going to the library, and following footnotes, I also did field research in San Francisco, walking the path that Mercy would've taken to school and through Chinatown, and making several visits to the Golden Gate Park, which is where the displaced set up makeshift homes. I also visited the Museum of Chinese Americans in New York, which had a fabulous display on Chinese laundries, including the twenty pound irons they used to press out wrinkles!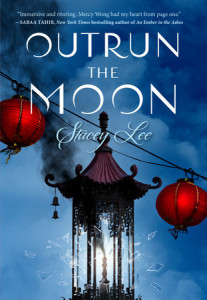 If historical fiction reflects as much on our present day as much as on the events of the past, what aspects of our present have inspired Outrun the Moon?
I love this question. After the earthquake, class and race divides fell away, at least temporarily and people helped each other out. Makeshift kitchens were built to feed the hungry, such as the one my character Mercy starts along with her classmates. This post catastrophe altruism is not uncommon; we saw it happen after 9/11, Hurricane Katrina, and many many other catastrophes. We hear so much about all the bad things happening in the news. I really wanted to show people being good to one another even in the most trying of circumstances.
In your second author's note, you discuss some of the aspects of your story that would have been unlikely in that time and place. I've seen other books for this age group, notably Marjorie Agosín's Pura Belpré Award-winning novel I Lived on Butterfly Hill, that change the history for the purpose of the characters and story. In an interview for The Pirate Tree in May 2014, Agosín said, "Although this book mirrors Chilean history and the era of Pinochet, the names [of the historical figures] are invented and I reimagined the time frame. I could not bear to make Celeste Marconi endure 17 years of a fierce dictatorship. Three was enough." How does your novel change, or re-envision, the historical record, and why?
A historian once told me that a Chinese girl would never have tried to do what Mercy does—enter an all-white girls' school, especially by deceit. Probably she is right; first, there weren't that many girls in Chinatown—most Chinese were bachelors, and the girls who were there would've been expected to stay in the home. But we know that several Chinese girls actually did buck societal expectations—some married outside their race, others became showgirls. As I said in my note, if we are confined by the strict margins of what we know to be true, we would never explore the power of what could be true.
Outrun the Moon is your second historical novel that presents a moment in the history of Chinese people in the United States, following Under a Painted Sky, set along the Oregon Trail in the 1840s. Do you have others in the works? What common elements and themes run through all your books?
Yes, I do have other historicals featuring Chinese people in the works! But I can't talk about them yet. 😉 I definitely gravitate toward themes of family, friendship, survival, and well, girls pretending to be someone they are not.
Thank you, Stacey! I look forward to your next book!