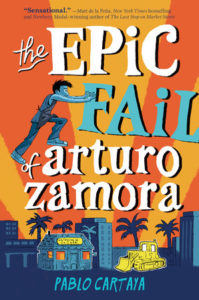 At the beginning of the summer, 13-year-old Arturo Zamora is not looking forward to his "promotion" to the position of Junior Lunchtime Dishwasher at his family's Cuban restaurant in a suburb of Miami, Florida. Not only will he miss his two best friends, away on a family vacation and at summer camp, but dishwasher is also the worst job at La Cocina de la Isla. Still, Arturo is happy to spend the summer with his large family and his beloved Abuela, the restaurant's co-founder and cook who can no longer work there because of health problems.
Two things make this summer especially challenging for Arturo. One is Carmen, the "cousin who isn't a cousin" but the 13-year-old daughter of his mother's best friend, who recently died of cancer. Carmen and her father live in Spain but are spending the summer with the Zamora family, and Arturo is immediately captivated by her beauty, spunk, and love of poetry. More ominous is the arrival of the developer Wilfrido Pipo, who has planned a luxury condominium with all the amenities—to be built on the site of La Cocina de la Isla and its parking lot. Wilfrido plans dinners, festivals, and other activities to gain the support of the Zamora's neighbors and the town council that will ultimately grant or deny a zoning permit for Pipo Place. Instantly, the Zamoras and their beloved restaurant are all alone, for the developer has turned the entire town against them. But this large family, residents of the town for three generations, will not go down without a fight.
The author of several picture books, Pablo Cartaya debuts as a middle grade author with The Epic Fail of Arturo Zamora, and what a delightful and endearing debut it is! Arturo's first person, present tense narrative voice is authentic and believable, as is his awkwardness around Carmen, the first girl he has truly noticed. Readers will enjoy the humor in dialogue and situations and the use of code switching between English and Spanish as Arturo interacts with his family members and other "cousins." The characters' (and author's) Cuban heritage comes through in the food, the family relationships, and the writings of José Martí, the nineteenth-century poet and patriot who inspires Arturo to stand up for his family against the powerful developer. The story concludes with pair of favorite recipes and a brief author's note about Martí's life and work.