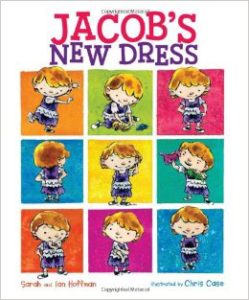 Guest Post by Padma Venkatraman
JACOB'S NEW DRESS
By Sarah and Ian Hoffman (illustrated by Chris Case)
2014
978-0-8075-6373-1
Albert Whitman and Company
Nearly a decade ago, we were visited by dear friends, whose son was gender-nonconforming. Like Jacob, the protagonist of the Hoffmans' picture book, our friends' son enjoyed wearing dresses every now and then. He told me he'd asked his grandparents for the Christmas gift of a dress. And because not just his parents but also his grandparents were wonderful people, they fulfilled his desire without any fuss.
How I wish I'd come across this lovely little book so I could have given it to him! Then again, I'm glad I did finally come across it.
Written in lucid language appropriate for the youngest of readers, Jacob's new dress is about a boy who likes to wear dresses. His friend, Emily, embraces him just as he is. His teacher, Ms. Wilson, is also accepting. She does not question Jacob when he announces he's a princess, although she does begin by suggesting traditionally male roles when Jacob chooses a costume: "Jacob, you try it! What new thing could you imagine being? A firefighter? A policeman?"
Unfortunately, Jacob's classmate, Christopher, is determined to make Jacob feel uncomfortable. He teases and then bullies Jacob.
Jacob's parents are supportive. But at first, his mother is reticent when Jacob insists on wearing a dress to school, despite the bullying. The Hoffmans do a wonderful job of showing us her anxiety over what Jacob will face at school, as well as her desire to fully support her son. With simple but powerful sentences, they also show the stress Jacob undergoes: "Mom didn't answer. The longer she didn't answer, the less Jacob could breathe."
Christopher decides to label Jacob a "girl" – refusing to accept Ms. Wilson's point of view and conforming to his father's ideas that "boys don't wear dresses." But Jacob finds within himself the courage to speak out and openly express his pride in his own personality.
Jacob's persistence and quiet courage are beautifully portrayed, in an age-appropriate manner that will be appreciated not just by young readers, but also by their parents and teachers. Brightly colored drawings, also sure to appeal to the target audience, accompany the text.
The authors' note at the end of the book provides words of wisdom for parents and teachers of "pink boys" like Jacob. But this book is not for a niche audience. Like Leslea Newman, the author of the classic Heather Had Two Mommies, whose praise for the book appears on the back cover, I hope Jacob's New Dress will be widely read, so that we may grow more accepting of differences, and spread the message that there are many ways to express ourselves.