One of my all-time favorite young adult novels is Sammy and Juliana in Hollywood by Benjamin Alire Saenz. Set in 1969, it tells the story of several young people growing up in a barrio in New Mexico, the Vietnam war casting a shadow on their lives. Whenever I read it, I always think that the themes of the late 1960s are just as relevant for today's teenager as they are for anybody who was growing up in that era, forty years ago. Though teens today don't face the draft, we are immersed in a foreign war with no real end in sight. What is our responsibility? How should we think about war? And how are teenagers affected by a war that is both distant and so close to home?
For the past eight or nine months, I've been editing an anthology of non-fiction on the subject of children/teens and war. Though the anthology is non-fiction, I've also immersed myself in fiction about the subject, which is how I came across Purple Daze, Sherry Shahan's newest young adult novel. I wrote Sherry and asked her to answer a few questions about her novel and how she feels it speaks to young people today.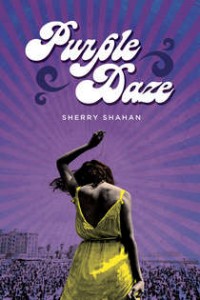 Purple Daze is Sherry Shahan's first novel written in verse. Set in Los Angeles in 1965, it's a story about war, feminism, riots, love, racism, rock 'n' roll, and friendship. Six high school students share their intense personal experiences through journal entries, notes, letters, interconnected free verse and traditional poetry. The themes are as relevant to today's teens as they were 50 years ago.
Q: Why write a book about the Vietnam war right now? Do you see it as offering commentary on the Iraq & Afghanistan wars?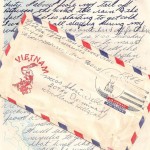 A: While cleaning out my office closet, I found a shoe box filled with letters written by a friend who was in Vietnam in the 1960s. I spent hours pouring through gut-wrenching accounts of his day-to-day life in that living hell. It was terrible watching a good friend turn from a carefree kid into a hardened soldier. His letters inspired Purple Daze and the character Phil.
The war in Vietnam shares many similarities to what's happening in Iraq and Afghanistan. Our country is still sending young soldiers to fight highly trained insurgents on foreign soil in a war of choice. Q: Why do you think it's important for kids to learn about topics like the Vietnam war?
During research I was reminded of the blatant hypocrisy in our government. In 1965, the Pentagon requested bids from chemical companies for Napalm–a rolling flame of jellied gasoline. Around the same time, President Johnson gave his famous "Prayer for Peace" speech, calling for permanent peace in Southeast Asia. It was also the year the FBI launched a campaign to discredit Dr. Martin Luther King, Jr.
The narrative pieces were chosen because I felt they aptly reflected the highly charged emotions of the times. When I read about Norman Morrison, father of three, who set himself on fire to protest the war, I sat at my desk and cried.
I could have added more historical entries, but I didn't want Purple Daze to be 'text-bookish.' Ultimately, Purple Daze is a novel about six high school friends
and their sometimes crazy, often troublesome, and ultimately dramatic lives.
Q: To me it seems as though our country is less involved with the wars in Iraq & Afghanistan—almost like we forget they're going on, they don't affect our daily lives—and it seems to me that's different than Vietnam, at least towards the end of the war in Vietnam. Can you comment?
A: That's an interesting question. Since I'm not a student of political science I can only offer an opinion. Vietnam was the first war fought in our living rooms. The evening news broadcast disburbing images of death and destruction. We watched body bags loaded onto airplanes. Thankfully, we no longer have the draft. But back then, there was an outrage that males of a certain age (and lower economic status) didn't have a choice about going into the military.
Q: What do you hope teens take away from your book?
A: While I never consciously write with the intent of conveying a message, the difficulties facing today's teens aren't that different from those faced in the 60's. Issues with parents, relationships, love and loss. Young people are still breaking away from authority and convention, still forging their way into an unknown future.
 Sherry Shahan is the author of more than 30 books, both fiction and nonfiction. Research has put her inside a dog sled for the first part of the 1,049-mile Iditarod Trail Sled Dog Race in Alaska (Dashing Through the Snow: The Story of the Jr. Iditarod), paddling a kayak in a remote fjord (Frozen Stiff) and on an exposed ridge during a deadly electrical storm (Death Mountain). Visit Sherry at her website.