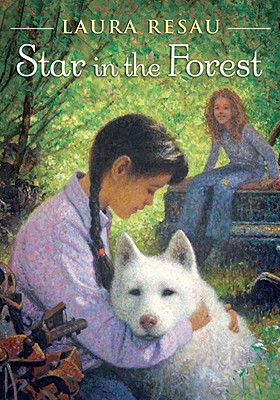 For middle-grade and high school readers, STAR IN THE FOREST by Laura Resau is a contemporary novel that catches your heart in the first chapter. One day Papa is pulled over for speeding.  Mama cries again and again to family, to friends,  Deportado!  Deportado!    Papa is deported to Mexico.  His daughter, his little star, Zitlally, Estrella, a descendant from the Aztecs, first withdraws, but then discovers a secret source of strength in the "forest."
Laura Resau has created a poignant story about the strength of children and their families to survive.  She writes with honesty and compassion as well as presenting believable characters in difficult but also real situations.  Star in the Forest keeps readers turning the pages as it invites re-thinking one's perspective as well as prejudices.  We all have them.
Laura's latest novel, The Queen of Water, written with Maria Virginia Farinango, was reviewed here last week.  Laura "talked story" as she shared her journey of writing The Queen of Water.
Laura tells us why she wrote Star in the Forest:
"I came across the bones of my book Star in the Forest on the outskirts of a small town in southern Mexico. One day, a decade ago, I was taking my daily walk down a dirt road lined with shacks made of corrugated metal and plastic tarp and salvaged wood scraps. I strolled past smoldering piles of trash and leaped over trickles of raw sewage, giving wide berth to occasional packs of scrawny dogs.
On this particular day, I came across a family leading a burro by a frayed rope. They smiled at me, and in perfect American English, one of the children said, "Hey, what are you doing all the way out here?"
Surprised, I explained that I'd been working here as an English teacher, then asked where they'd learned to speak English so well. They chattered about their previous home in Chicago and their recent move back to rural Oaxaca. It felt surreal to be talking to such thoroughly American kids at the side of a dirt road where chickens pecked at corn kernels.
Over my next two years living in Oaxaca, as I met more young people who'd spent part of their childhoods in the U.S., I tried to understand how they might feel straddling two very different cultures. I jotted down thoughts and observations in my notebook, thinking they might come out in a story someday.
A few years later, in Colorado, I worked with an organization that assisted Mexican immigrant families with young children. I made home visits in trailer parks where many of the families lived, and there I met children on this side of the border who were also negotiating lives that bridged two worlds. I came to understand that despite the relative luxuries of their American homes—indoor plumbing and solid walls—undocumented kids have lives brimming with uncertainty. Considered "illegal," they lack a home that gives them a sense of safety and belonging.
While writing my first novel, I worked as an English teacher for immigrants. I formed friendships with many undocumented parents and children who shared with me their fears, anxieties and personal stories. A number of immigrants I knew had close relatives who had been deported from the U.S., leaving the rest of their family behind. Others had been assaulted or kidnapped while attempting to cross the border. Often, after hearing about these experiences, I took out my trailer park story and wove in more layers, ideas and details. Yet the manuscript always ended up back in a drawer.
And then one day, I heard from a 12-year-old reader I'll call Maria. She connected strongly with Clara, the narrator of my first novel, What the Moon Saw, who visits her grandparents in their Mixtec village in Oaxaca one summer.
Maria was undocumented. She'd come to live in her Colorado trailer park as a young child, after crossing the desert illegally. Her father had recently been deported to Mexico, and soon after, Maria began having problems at home and at school. After a particularly bad argument with her mom, she yelled, "I want to go to Mexico!"
Then her mother told her that if she moved back to their village, she could no longer go to school; instead, she'd have to wash clothes by hand all day to earn her living. Understandably, this made Maria even angrier. . . and frustrated and sad.
Which made me angry, frustrated and sad. So I wrote about it in my notebook. And suddenly, everything I'd been trying to say in the trailer park story crystallized. I wrote about a girl in Maria's situation, trying to find a sense of power and comfort in a desperate situation beyond her control. The novel that emerged had the framework of my original story, but now I felt there was something more, something that made the story pulse and breathe. After a decade and many journeys back and forth across the border, its heart had arrived."
To read more about Laura Resau, Star in the Forest, and her writing, go to her delightful website:
www.lauraresau.com
STAR IN THE FOREST   Reviews and Recognition
Bank Street Children's Best Children's Books of the Year *Outstanding Merit*
A Capitol Choices Noteworthy Book for Children
A Grand Canyon Readers Award Nominee (Arizona)
A DCF Award Nominee (Vermont Libraries Children's Selection)
CCBC Choices List
Richie's Pick: A Best Book of 2010
Times Union Top Ten Books for Youth on Social Justice and Intercultural Understanding
School Library Journal (STARRED)
* … Once again, Resau has woven details of immigrant life into a compelling story. The focus is on the developing friendships, both between Zitlally and her previously ignored neighbor, and between the fearful youngster and the dog. Conversations between the two girls are believable and the details of their lives convincing. The first-person narrative moves steadily as Zitlally loses and then gradually recovers her voice and gains confidence. Vignette illustrations introduce the chapters. A version of Zitlally's father's spirit animal story, a note about immigration, and glossaries of Spanish and Nahuatl words are appended. This is a well-told and deeply satisfying read."
ALA Booklist (STARRED)
* As in Francisco Jiménez's The Circuit: Stories from the Life of a Migrant Child (1997) and Pam Muñoz Ryan's Esperanza Rising (2000), Resau's novel tells a child's migration story with simple immediacy … Always true to Zitlally's viewpoint, the unaffected writing makes clear the anguish of illegals. The thematic parallels with the dog, also an illegal of sorts, are redundant; it's the family story, more than the pet plot, that will grab readers. A pronunciation guide, a glossary, and a note about immigration from Mexico to the U.S. close this unforgettable narrative of a girl's daily struggle to find a home.
Richie's Picks
… One of the coolest things readers will take away from STAR IN THE FOREST has to do with giving someone the benefit of the doubt. I don't want to give the story away, but I'll say that the author sets it up so perfectly that when we meet a particular character far into the book, he is definitely and immediately the object of our anger. How could he do what he's done?