For several decades, Arte Público Press and its children's imprint Piñata Books has published new work by Latino and Latin American authors in English and Spanish and brought classic titles back into print. When Nicholasa Mohr's young adult novel Nilda first appeared in 1973, it received accolades from the New York Times and the American Library Association. The novel remained in print throughout the 1970s and 1980s, and last year, Piñata Books brought out a new edition that features a redesigned cover and artwork by the author herself. Before becoming a writer of fiction for preteen and teen readers, Mohr was a visual artist, and in her new introduction to Nilda she recounts the initial rejection she experienced when she made the transition from visual arts to writing.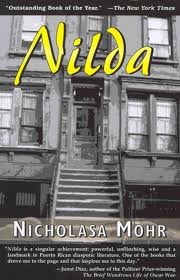 Set in El Barrio of East Harlem, Nilda recounts four years in the life of a spunky Puerto Rican girl with four older brothers, a politically outspoken stepfather with a heart condition, and a mother who tries to maintain her pride despite the hardships and humiliations that poverty brings. The novel begins in summer 1941, when Nilda is ten years old, and ends in summer 1945, at the end of the Second World War. Nilda matures through a series of self-contained episodes. She endures several days of a harsh camp run by the Catholic Church, but her prayers are answered and her faith kindled when the camp's plumbing breaks down and the campers are sent home early. Another summer, she attends an idyllic camp but her family's worsening money troubles prevent her from returning to what she will always remember as the happiest summer of her life. One brother falls prey to the drug trade while two others volunteer for military service. Prim welfare workers intrude into the family's life as a condition for giving assistance
Although Nilda is set in the 1940s and written in the 1970s, the language and situations are as relevant today as they were then. Mohr captures the speech of the barrio, the bonds of family, and the annoyances small and large of too many people living together in too small a space. Readers find comic relief in the family's harsh situation through a great aunt obsessed with crime stories, and through the antics of Nilda's older brothers. Though she experiences discrimination, poverty, and the death of loved ones, Nilda is a survivor and a keen observer of the world around her. Kudos to Arte Público/Piñata Books for giving another generation of young readers a chance to meet Nilda!