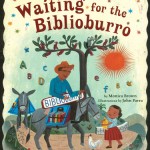 What a delight this book was. I even found myself obsessed with the heavy feel of the paper it is printed on (good news for those parents whose toddlers will maul a book). The story and illustrations are very basic, but the idea is an original one, and it's told (in the present tense) with a guileless innocence.
Ana is a little girl (her age and country of origin aren't stated, though the author, Monica Brown, is of Peruvian descent) who loves to read, a worthy problem for an American parent. But in her rural village Ana has no easy access to books. There is not even a replacement for the teacher who has moved on. In the tradition of mobile libraries, a librarian rides in on a burro and leading another. Both animals have side packs full of books, and the librarian lets the village children choose from them. After he tells a story he is gone, leaving them with their temporary gifts.
He doesn't come back for a long time and Ana wonders if he ever will, but he does, and she shares with him a story she wrote with his encouragement. Interestingly, in church last Sunday I heard a sermon about living more humbly. For most of us that meant fewer cars and flights and shopping trips. The contrast with the lifestyle of the characters in this book certainly humbled me.
Waiting for the Biblioburro is illustrated by John Parra. It's 32 pages long, and published by Tricycle Press.