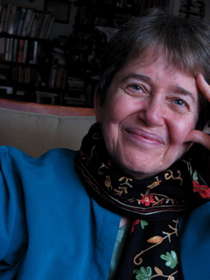 Last summer I reviewed the young adult novel In Trouble by Ellen Levine, about two teenage girls in the 1950s who find themselves pregnant and make different decisions about whether to undergo what was then an illegal and dangerous abortion. I subtitled my review "The Past That May Become Our Future" [http://www.thepiratetree.com/2011/08/01/in-trouble-the-past-that-may-become-our-future/] because attacks on the constitutionally guaranteed right to abortion (following the 1973 Roe v. Wade decision of the Supreme Court) threaten to make it both illegal and dangerous again. Accompanying the move to ban abortion is a cultural shift reflected in recent literature for teens in which the protagonist decides to carry the pregnancy to term.

Levine's novel bucked that trend, and this successful author in turn found herself "in trouble," unable to find a major publisher for the book. In Trouble ended up with the edgy Carolrhoda Lab imprint, and she described her difficulties in an interview with Hunger Mountain titled, "When Along with Her Characters an Author Gets in Trouble." [http://www.hungermtn.org/when-along-with-her-characters-an-author-gets-in-trouble/]
On Saturday, May 26, this outspoken author of children's and young adult books about the antislavery and civil rights movements (Henry's Freedom Box and Freedom's Children: Young Civil Rights Activists Tell Their Own Stories), the McCarthy era (Catch a Tiger by the Toe), immigration (I Hate English!) and freedom struggles around the world (Darkness over Denmark: The Danish Resistance and the Rescue of the Jews), among many others, lost her two-year battle with cancer. Debby Dahl Edwardson was one of her students at Vermont College of Fine Arts, and she wrote a moving tribute on her blog. [http://wordsfromthetop.blogspot.com/2012/05/remembering-ellen-levine.html]
My tribute is a bit different because I never knew Ellen Levine personally, though we corresponded after my review of In Trouble. I've read most of her books and have always admired her for her courage and her storytelling. Her Hunger Mountain interview is inspiring for those of us who've struggled with self-censorship and the need to tell the truth. Her passing is a major loss for those who knew her as a friend, those who worked with her, and those like me who simply admired her from afar.
Fellow Pirate Tree blogger Nancy Bo Flood adds, "What a remarkable woman and writer. Such a spirit of joy and compassion with the courage to write stories our world needs…"
Everywhere, the word "courage" comes up in describing Ellen Levine. Let's carry her work forward.