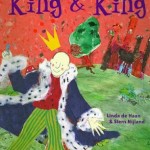 This book is a bit old, but I'm revisiting it since it's June, which is both Pride month and the month of my anniversary. (Our friend and professional storyteller Christie Keegan told a version of the story at my wedding in June 2004.)
It's the story of a prince pestered by his mother the queen to get married so she can retire. He does–to another prince. The queen comes around quickly to accepting the realities of her son's succession to the throne. There's also a witty reference to girls who dated gay guys: All the prince's former prospects joyfully celebrate his wedding. Thus homosexuality is not the issue here. Instead it's a true love story, turned a bit on its head.
I found the mishmash collage artwork delightfully subversive, reminding me as it did of Quentin Blake's work for another subversive children's writer, Roald Dahl.
King & King, co-written by Linda De Haan and Stern Nijland, was originally published in Holland as Koning en Koning. It is 32 pages long and brought to us by Tricycle Press. The story arc is so simple that probably parents who are inclined to introduce their children to such a topic might use it with their pre-readers.