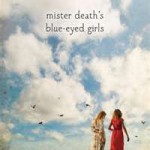 Mr. Death's Blue-eyed Girls by Mary Downing Hahn (Clarion Books) 16.99
If you have read Mary Downing Hahn's earlier ghost stories especially Wait Till Helen Comes: A Ghost Story, you know what I'm saying when I say her books always scare the bee -jeebers out of me. But they also leave me with the memory of characters who have confronted their own most secret jealousies, fears and dislikes. Downing Hahn's most recent book, Mr. Death's Blue-eyed Girls, based upon the true story of a 1955 murder of two small-town teenaged girls, doesn't leave readers scared so much as haunted and uncomfortable about how violence and especially violent death can shake up an entire town.
In a community in which everyone once felt safe, people begin uncomfortable and fearful. The murder affects everything about the way the Nora Cunningham, a friend of the dead girls, looks at her world which is suddenly filled with grief and fear. Nora reflects on the way community members bent on resolving the murders condemn an ex-boyfriend named Buddy despite proof of his innocence.  Nora questions her own belief, her religious convictions and the certainty that had once had about her own life. Nora questions why God would take her friends so violently and she doesn't believe for a minute that they're better off in heaven when they had so much more life available on earth. She wants better answers than her mother can give her when she says it's God's will. As Nora works through her grief, she feels she's the only one who remains sure that the murderer is still in the community while the community accuses Buddy. She comes to realize that it takes courage to admit your own beliefs when they contradict others. While most in town believe the murderer is Buddy, Nora who should have been with the girls that final morning of their junior year in high school becomes convinced of his innocence. She's the only voice in Elmwood who believes this. But Nora slowly pieces her recollections of that morning and she knows there was someone else in the woods along the path the girls took to school.
While Buddy may have been a bad boyfriend, he wasn't at the scene, despite an alibi and police evidence to prove Buddy's innocence, Nora can't convince her other friends of this. When Buddy is released from jail, even his family shuns him. When he joins the navy, Nora corresponds with him and discovers she is a lone voice in her community.
This novel speaks to the reality of justice in a democratic society, that sometimes people are held guilty despite investigations and trials that might prove others.  This speaks to the need of some to find guilt after an act of violence, even if there's a lack of evidence. It speaks to what each of us might do so that we can rest easily in our own dark nights.