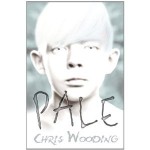 Jed and his friends hate the Pales, people who at the moment after death have been given something called the Lazarus Serum. The potion keeps them animated, but like vampires and zombies, they are no longer technically living. They have an undead pallor. Jed's father is an ambulance-chasing lawyer who specializes in cheating the Pales out of their property since the dead have no legal rights.
Pale, by Chris Wooding, invokes many moral conundrums. People get tested to find out if they're a candidate for the Lazarus Serum just in case, even while they hate and despise the Pales. When Jed is hit by a car and killed, his girlfriend has to make the decision about whether or not the EMTs should administer the serum. She opts for it, and Jed finds himself rejected by his family and friends and he's even tormented by the friends he once tormented the Pales with. Out of spite Jed wants to inject his ex-girlfriend with the serum, and struggles with his conscience. There are many parallels young readers may make between the Pales and anyone in a bullied class, and the allusions to minority groups and their civil rights struggles are obvious. Unlike vampires or werewolves or zombies, the Pales are not dangerous to humans, just unsightly, and that of course is one of the foundations of bullying and even racism.
At 72 pages with short chapters, Pale is a very quick story. Its prose is simple and its characters are not dimensional. But I'm intrigued by the twist on the undead archetype.  And this is an easy and thought-provoking piece for reluctant/struggling middle school readers who are attracted to dystopian settings. Pale will be published in September by Lerner Publishing Group.