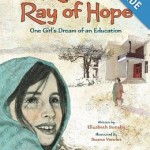 Razia's Ray of Hope: One Girl's Dream of an Education by Elizabeth Suneby is extremely informative, providing children just enough of a glimpse into the strange educational apartheid in Afghanistan. The Zabuli Education Center for Girls in Kabul is a real place and stories such as this one rise out of the real life experiences of the students there.
Razia and her friends can see the slow development of a new school for girls, but it's not that simple for her. She first must get the permission of her family–the men, especially her brothers–who mostly oppose the idea of her attending. Her kindly grandfather, who remembers the magnificence of his own education before the country was torn apart by conflict, is her only ally. Only when her brother Aziz needs Razia to read a medicine bottle for him and when he finds out his stones will be used for the protective wall on the school will he relent and allow her to attend.
While Razia's Ray of Hope: One Girl's Dream of an Education is a bit didactic (it's published by Kids Can Press, a branch of Citizen Kid which states its mission as inspiring children "to be better global citizens"), the educational value of this book makes it worth reading. And the realistic watercolor illustrations by Suana Verelst are striking in their color contrasts. There is much revealed here, both for the early and the older (and old…) reader.
The book has been released just this month. It is smyth-sewn hardcover, with 32 pages.