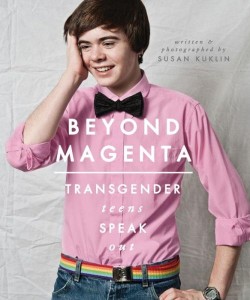 In a desert of positive and honest information for teens about peers who identify as transgender, gender queer, gender nonconforming and intersex, Susan Kuklin has provided a much needed oasis with the publication of her new book Beyond Magenta: Transgender Teens Speak Out (Candlewick Press, February 2014). Beyond Magenta effectively blends information with art, in a powerful book that has already earned starred reviews from, Booklist, Kirkus and Publisher's Weekly.
Divided into six sections, each dedicated to one of the teens, Kuklin gracefully and purposefully channels the teens' own words to allow each to tell his, her or their own story through compelling personal narratives. She deftly uses sparse, italicized questions and clarifications to compliment and enhance the teens' stories, while allowing their own words the primary focus. Jessy, who is FTM, says, "When I first started my transition, I wanted it to be complete, from one side to the other. But now I'm embracing my in-between-ness. I'm embracing this whole mix that I have inside myself." Cameron, who is gender queer, gender fluid, and gender other, says, "Gender does not have endpoints: it's three-dimensional. Males float around somewhere, females float around somewhere else, and some people just don't float at all – they swim."
All but one of the sections are enhanced with photographs of the teens, most taken by Kuklin, but some contributed from family photo albums and even school yearbook portraits. The beautifully designed book uses various visual elements so that each section reflects that teen's individual personality. For example, Christina's and Jessy's sections include pictures of them from childhood through current photographs of them in transition, while Mariah requested that no photographs be used, and photographs of Luke focus on his hands or show him backlit through a scrim during a performance*. For Cameron, Kuklin included a series of photographs expressing the many facets of Cameron's gender expression. For Nat, who is intersex, Kuklin used beautiful black-and-white photos of Nat in their urban environment.
A special thrill for this Madisonian is Luke's Section, with mention of Madison's Proud Theater, and the book intentionally ends with that chapter, with teens turning to art and activism to improve their world.
With extensive back matter and an insightful author's note, Beyond Magenta is as much art as resource. It is sure to provoke conversation and may help build empathy and understanding in teen and adult readers. As Kuklin says in her note, "The people I've come to know and love in the course of writing and photographing this book have helped me to better understand the fluidity of gender and sex. This lesson for me also reinforces what I've been writing about for years: once we get to know individuals who may be different from ourselves, it is less likely we will be wary of them. And maybe, just maybe, we will learn a little more about ourselves."
I had the pleasure of talking with Susan while she was in Madison working on Beyond Magenta, and I was excited to read the book that would emerge from her interviews and photographs.  It's a beautiful, moving, honest book, one that is both a great read and an important addition to the literature for young people.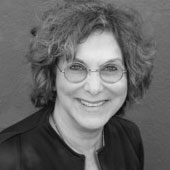 I was thrilled that Susan agreed to be interviewed for The Pirate Tree, so I could ask her some of my reading-inspired questions, and share with others a glimpse into the creative process that produced such an extraordinary book. Since Susan was so generous with her time (and answers), I am going to post part of her interview today, and then post the rest of the interview here next Thursday, March 20, 2014.
E.M. Kokie: What was the genesis of the idea for Beyond Magenta, and how did it evolve from initial inspiration to proposal to finished book?
Susan Kuklin: Beyond Magenta began with an email from a librarian/friend whom I respect a lot. She mentioned the need for more nonfiction LGBTQ literature for young adults. Sometime later my cousin, who is pansexual and a generation behind me, told me about a transgender friend who broadened her thinking by saying, "When looking for love and friendship, it's the person, not the gender, that counts." That comment got me thinking. I talked to my agent about the possibility of a book that focused on the transgender community. I thought this would be a long shot because at the time, hardly anyone was talking about the subject. My agent loved it, though, and asked me to write a proposal. That was a bit tricky since my books feature contemporary subjects with living people and have a way of taking charge of themselves. So publishers are taking a chance when they sign me up. I explained this to my future editor. She and Candlewick Press supported me throughout this process. Although the book was always about the transgender teen community, the emphasis shifted somewhat toward gender fluidity.
E.M.K.: How did you select the teens to interview? What obstacles or stumbling blocks did you face?
S.K.: It took months and months and months to find, meet, and talk with an organization that could help me find teens for the book. When I met the folks at the Callen-Lorde Community Health Center, I knew I was in exactly the right place. They have a great reputation as well as a special program called HOTT (Health Outreach to Teens). Once HOTT was on board, we looked for ways to approach the young people without compromising the confidentiality between the caregivers and their clients. Added to the clinic's requirements were my own prerequisites to balance the book's need for diversity without turning anyone down.  We came up with a plan. One of the psychologists at the clinic is also a writer. She understood exactly what I was looking for – introspective, articulate young people from a broad spectrum of racial, ethnic, and economic backgrounds. I also needed to include a variety of people from the multi-pronged transgender umbrella.  The psychologist would describe in very general terms  [no names] a person whom she thought would fit the criteria for the book. When I agreed, and I usually did, she'd tell her client about the book and about me. If they were interested, she gave them my contact information. From that point on the relationship was between the teenager and me. Everyone who called was included in the book. No one was rejected. This process – from the first queries to the first participant's phone call – took close to a year. Meanwhile, I was reading, studying, and attending transgender conferences and panels.
My interview with Susan continues next Thursday, March 20, 2014, with more about her creative process and her personal experiences in working on Beyond Magenta: Transgender Teens Speak Out.
*
I originally erred in crediting Susan with the photograph of Luke in performance. The photograph was taken by Proud Theater's co-founder and Community Outreach Coordinator/Adult Mentor,
Callen Harty
.  
Susan Kuklin is the award-winning author and photographer of more than thirty books for children and young adults that span social issues and culture. Her photographs have appeared in documentary films, Time Magazine, and the New York Times. Susan lives in New York City.