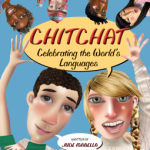 Chitchat–Celebrating the World's Languages by Jude Isabella (Kathy Boake illustrated ) is an extremely entertaining and educational book about language. Being married to a linguist, I'm familiar with many of the concepts here, and I'm impressed with the breadth and scope of the work. It's text-heavy and soundly researched, so probably it will be a suitable challenge for fourth graders and up who have an interest in the topic.
It covers an extensive array of topics, including the origin and history of language, human language physiology, language families, slang, unspoken languages, and endangered and extinct languages, the latter two being my spouse's areas of expertise. The book informs as well as it dispels myths and assumptions about language. (Other animals communicate and may understand certain human words, but do not speak, much as we would like to believe they do….) There is a comprehensive glossary included, and a detailed index.
The illustrations resemble claymation figures. They are bright and sharp and well-worked into the text well without being distracting.
In the era of Common Core, I can envision this as a meaningful nonfiction source. It's an ambitious read (44 pages) that includes the basic outline of what one would find in a college freshman linguistics course!
Chitchat is published by Kids Can Press.