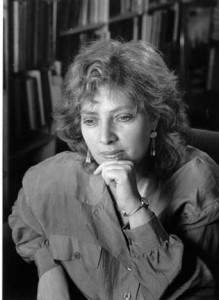 Last week I reviewed Marjorie Agosín's debut novel for middle grade readers, I Lived on Butterfly Hill. This lyrical novel is the story of a perceptive and courageous girl living in Valaparaío, Chile and facing traumatic political events that force her parents into hiding and her to fly alone to Maine to live with an aunt she barely knows.
Marjorie lived in Chile until she moved to Athens, Georgia with her parents at the age of 15. Active in human rights and women's issues, she is the author or editor of more than 80 books, including award winning poetry collections and the memoirs A Cross and a Star, Always from Somewhere Else, and The Alphabet in My Hands, which respectively explore the lives of her mother, her father, and herself. She has been recognized by both the United Nations and the government of Chile for her human rights work. She has kindly agreed to be interviewed for The Pirate Tree, where she talks about her personal connection to the characters and story of I Lived on Butterfly Hill.
Much of I Lived on Butterfly Hill is based on your personal story and that of your family. Which of your characters are drawn most directly from the real people in your life?
Yes, much of the novel is based on my own personal story and the characters that have shaped my imagination. At the same time I have added many things to these characters. I have tried to make then even more colorful and yet they are all so real to me.
Don Alejandro is a real taxi driver. He drove my grandmother and me everywhere, and he still does. He always waits for us when we arrive and when we leave. He is our "harbor."
Delfina Nahuenhual is an extraordinary Nana, a magical weaver of stories, a believer in magic and the signs of a mysterious world where the dead and the living merge. And she came from the south of Chile, La Araucania.
Grandmother Frida is a mixture of characters. Frida is my mother's name and yet the character is more like my grandmother Josefina and also a bit like my great-grandmother Helena, a Jewish refuge from Vienna who arrived to the port city of Valparaíso, where the story emerges.
I also feel that the city is the main character.
I am especially impressed by your ability to depict terrible events in ways appropriate for readers ten to fourteen years old. How did you approach this challenge and were there any models of books or other media that helped you determine the appropriateness of yours?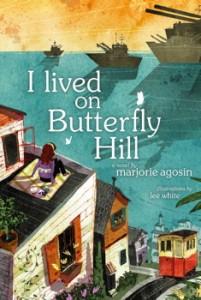 Your question is so moving and important. I think I have learned to speak of the unspeakable with beauty as a poet and all of my human rights poetry deals with this theme…so I used the skills I have learned and at the same time I return to my childhood where I just knew certain things. I knew that my great-grandmother Helena lost all of her family in the Holocaust and I learned to live with questions and silences, and this is what helped me in this book.
The history portrayed in your novel is somewhat different from the actual events. How is it different, and why did you write at one remove from the actual history?
Many factors influenced the way I thought about Chilean history in the novel. Although this book mirrors Chilean history and the era of Pinochet, the names [of the historical figures] are invented and  I reimagined the time frame. I could not bear to make Celeste Marconi endure 17 years of a fierce dictatorship. Three was enough.
I also wanted to put some humor and made Pinochet die of a terrible cold.
I felt so free to interpret history, and I also was always aware that I am writing with the voice of a child.
Your characters come from a variety of cultural backgrounds, yet magic is important in some way to most of them. Why does magic play such a key role in the story?
Magic is another way of looking at the world. Magic cultivates the art of intuition and appreciation for the unexpected. Magic interprets the world through signs. In Latin America people live in a state of magic so I inherited this way of being.
In your novel, girls and women emerge as strong, supportive figures. Can you talk more about this theme in the context of Celeste's life in both Chile and the United States?
In Chile I was raised by independent parents and parents who allowed me to be myself. This is why I was able to create a character that has  her own agency and who believes in herself
I believe most young adults have this sense of themselves, but then when they are bullied they change and became afraid…
Celeste does not change, and is her will power that makes her search for her parents. As an emigrant I needed this will power to survive and I learned from it.