St. Louis, MO, near neighbor of Ferguson, was a "receiving station" of the Great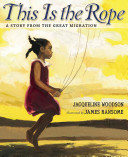 Migration.  Isabel Wilkerson's THE WARMTH OF OTHER SUNS, magnificently recreates many journeys out of the Jim Crow states of the south to major eastern and midwestern cities in the U.S. including St. Louis.  Ferguson families who are in crisis in 2014 over the shooting by police of one of their sons, Michael Brown, are shaped by the Great Migration. In honor of the history of the people  of Ferguson, here is a story written by Jacqueline Woodson, THIS IS THE ROPE, which offers a wider perspective for young readers on the news of today.  Woodson's dedication:  "This book is dedicated to the more that 6 million African Americans who left the unjust conditions of the south for a better life in the North from the ealry 1900s until the 1970s. My mother and grandmother were among them. I thank you all for your courage and for making a way out of no way."
Woodson calls THIS IS THE ROPE a fictive memoir.  The rope is one a young girl  played with in South Carolina and that same rope makes its way north serving multiple uses, finally becoming a young girl's skipping rope two generations later. She lives on a street in Brooklyn where the family migrated and where they now have a home.
Woodson has written a song, each page beginning with this is the rope, telling the journey of homesickness but also of how a family holds close to each other and embraces their future.  Woodson writes, "The rope we brought to this 'new country' was Hope."
May the children of Ferguson know this story of courage and hope is their heritage.