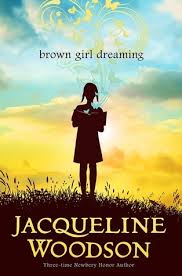 Brown Girl Dreaming by Jacqueline Woodson (Nancy Paulson Books) $16.99
Sometimes we pick up a book because we know the voice will be poetry. That's always the case with novels written by Jacqueline Woodson. Through poetic snapshots in Brown Girl Dreaming, Woodson's poetry opens a door to her own life growing up in South Carolina and New York. With one foot in the north and one in the south, Woodson reveals that she always felt halfway home in each place. Through vivid free verse, readers share Woodson's story growing up surrounded by extended family as an African American in the 1960s and 1970s, living with the remnants of Jim Crow and her growing awareness of the Civil Rights movement. Woodson draws readers into the world of a child, raised for part of her life by a grandmother as a Jehovah Witness, in poems so emotionally charged that we feel we're standing with her outside a classroom door while the rest of her class celebrates a birthday. We worry for the woman who hasn't got a dime to be saved by the words Jackie offers in a Watchtower pamphlet. Our spirits rise as she travels to her mother, and gives us snapshots of shared connections with her siblings. We feel the interior sorrow of her struggles with school and we cherish her emerging love of carefully chosen words that she uses now to paint her life.
As Woodson weaves the story of her beginnings, readers are caught in the beautiful tension of a child as she searches for her place in the world. "Woodson's eloquent poetry also reflects the joy of finding her voice through writing stories, despite the fact that she struggled with reading as a child. Her love of stories inspired her and stayed with her, creating the first sparks of the gifted writer she was to become." We open this book expecting to find and fall in love again with Woodson's poetry. We come away having explored her history and loving this child turned writer. Brown Girl Dreaming is a National Book finalist in the juvenile category but this story told through Woodson's powerful and poetic voice should be shared with readers of every age.
Winner of the Margaret A. Edwards Award for lifetime achievement in writing for young adults, the recipient of three Newbery Honors for After Tupac & D Foster, Feathers, and Show Way, Woodson is a three-time Finalist for the National Book Award for Locomotion Hush, and now Brown Girl Dreaming. Other awards include the Coretta Scott King Award and Los Angeles Times Book Prize for Miracle's Boys. Her most recent books are her novel Beneath a Meth Moon and her picture books Each Kindness and This Is the Rope. She lives with her family in Brooklyn, New York.