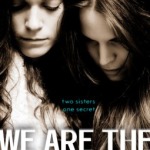 We Are the Goldens (Wendy Lamb Books) by Dana Reinhardt, $16.99.
Author Dana Reinhardt moves writing about perilous and illicit human relationships into the story of a sisters and consequences of sibling idolization with her most recent novel, We Are the Goldens. As younger girls Nell and her younger sister Layla were so close they were often called Nellayla. As Nell enters high school, she looks forward to sharing their lives even more by joining Layla on the soccer team, going to parties, and experiencing first love. But that isn't how this year will play out. Nell explores her own confusion over Layla's distance and withdrawal and wonders what she's hiding. When Nell discovers that Layla's involved in an inappropriate relationship with a teacher, Layla swears her to secrecy and claims this is the way things are, the loyalty they share. Nell struggles with keeping the secret and supporting her sister or telling someone in authority but breaking Layla's trust. Nell also struggles with her own relationships between her best friend who happens to be a boy who might have deeper feelings, when an upperclassman begins to shower her with attention. Told in second person as if it is written by Nell directly to Layla, this novel's intensity provides ample opportunity to explore issues of emerging sexuality and appropriate boundaries.
DANA REINHARDT is the author of A Brief Chapter in My Impossible Life, Harmless, How to Build a House, The Things a Brother Knows, The Summer I Learned to Fly, and Odessa Again. She lives in San Francisco with her husband and their two daughters.