THE STRANGE AND BEAUTIFUL SORROWS OF AVA LAVENDER by Leslye Walton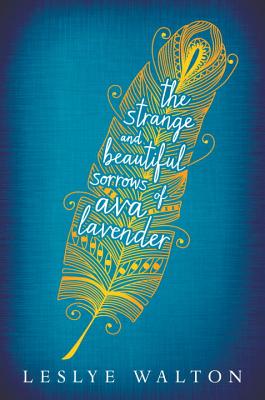 "How do I love thee? Let me count the ways…."
Elizabeth Barrett Browning
With images as whimsical as wings and feathers, Leslye Walton has created a fantasy that explores the many ways we capture love … or perhaps how love captures us.
THE STRANGE AND BEAUTIFUL SORROWS OF AVA LAVENDER a series of love stories, from mother to daughter and through several generations. Each story is a flowing river of images and interactions. Sometimes love is taken away, ripped away, but then one's heart must decide, shall I dare to love again? Or shall I wrap my heart in an invincible cage? Ah, what might be the price of allowing love to make one vulnerable?
We follow a family of women with whom love is squandered by one, but by another, held onto so tightly that her heart nearly suffocates. One daughter is blind to true love, watching patiently in the shadows, waiting. Another daughter is so afraid to love that she gradually fades into blue ashes.
The daughter of another generation falls slowly and deeply in love with a childhood friend. But she is betrayed. How long does one wait for love to return and stay blind to another one who stands nearby and is so ready to love with loyalty?
An added delight while reading this book are the sensual images that spin a world of delicious sights, sounds, and tastes. One might smell with Viviane the many smells of rain: "Summer rain smelled like newly clipped grass, like mouths stained red with berry juice – blueberries, raspberries, blackberries. It smelled like late nights spent pointing constellations out from their starry guises, freshly washed laundry drying outside on the line, like barbecues and stolen kisses in a 1932 Ford Coupe." One's mouth will water reading the descriptions of Emilienne's freshly baked French bread and pastries, such as the four-tiered wedding cake – "the vanilla custard filing, he buttercream finish, the slight taste of raspberries…."
THE STRANGE AND BEAUTIFUL SORROWS OF AVA LAVENDER by Leslye Walton will tantalize, baffle, but also give you hope about the human heart. Thank you, Leslye –
Follow this celebration of Morris – first YA novels – on the continued blog tour.The next stop on the blog tour is at the Cinco
Puntos' blog site at http://cincopuntospress.blogspot.com/.
And just in time for Valentine's Day:
How do I love thee? Let me count the ways.
I love thee to the depth and breadth and height
My soul can reach, when feeling out of sight
For the ends of Being and ideal Grace.
I love thee to the level of every day's
Most quiet needs, by sun and candle-light.
I love thee freely, as men strive for Right;
I love thee purely, as they turn from Praise.
I love thee with a passion put to use
In my old griefs, and with my childhood's faith.
I love thee with a love I seemed to lose
With my lost saints, — I love thee with the breath,
Smiles, tears, of all my life! – and, if God choose,
I shall but love thee better after death.
Elizabeth Barrett Browning 1806-1861