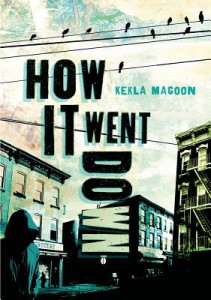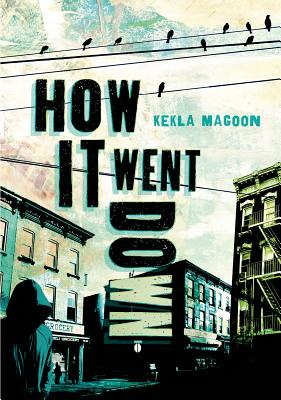 In November I reviewed the timely and relevant novel How It Went Down (Henry Holt, 2014) by Kekla Magoon, a novel that begins with an incident all too timely — an African American teenager has been shot and killed by a white man. Through multiple revolving narratives, the novel explores the aftermath of the shooting and  the impact such an event has on the friends, family, and community of the teenager who has been killed. Perhaps most impressively, the novel deftly illustrates how fallible eye-witness and personal experiences are when trying to determine "what happened." It is a compelling, fast-paced read that never shies away from the hard truths, but which embeds enough hope to inspire introspection and discussion.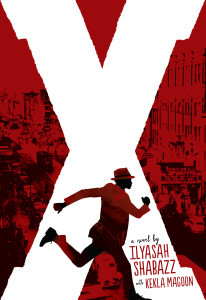 Perhaps most impressively, Magoon's newest novel is  X: A Novel (Candlewick Press, January 2015), the first novel for adolescent readers to explore the life of Malcolm Little before he became known as Malcolm X, co-written with Malcolm X's daughter Ilyasah Shabazz. X: A Novel focuses on Malcolm's childhood and teen years, and on the life experiences that would cause him to be imprisoned for theft at age twenty, and to find the faith that would shape the rest of his life and, ultimately, history. Like How It Went Down, X: A Novel will resonate with teen readers, and may serve as a springboard for larger conversations about the choices we make and the world in which we make them.

I am so happy to have been able to interview Kekla about these two extraordinary books, and to share that interview here:
E. M. Kokie: How It Went Down is told from the point of view of many different characters affected by the killing of an African American teenager by a white man — family, friends, members of the community and even those with a broader interest. I was most struck by how you demonstrated that each person's own interests, life experiences, and assumptions can affect their understanding and recollection of the same events. What was your process to craft so many distinct voices and characters?
Kekla Magoon: Well, the process involved a lot of color-coded note cards and post-it notes. The book encompasses something in the ballpark of 200 vignettes, from 18 different viewpoints. I started with about thirty characters from the community, and ended up paring it down to have fewer voices that recurred more often so that I could dig into their stories a little more deeply. Some of the characters came about because I wanted to include different "types" of person, from different slices of the community. Things like: gang member wannabe, gang member's girlfriend, grandmother, young child, college-bound kid, graffiti artist, gun owner, white neighbor. I also thought about philosophical points-of-view that had come up in the media in response to similar real-life controversies. There's always a law professor harping on why the shooter was within his rights, a mom who doesn't believe her child could have done wrong, a witness who claims it was the victim's fault and he had it coming, a rich black guy who lets himself believe it's not about race, but clothing and comportment. And so on. As I came up with different ideas about new angles and perspectives, I worked to join these concepts in believable ways to create realistic characters. It seemed inevitable that the character's past and circumstances would color his or her perceptions to some degree–and that those preconceived notions would be either clung to, or shaken, or maybe even overturned in this moment.
E.M.K:  In X: A Novel, you explore the adolescent and formative years of Malcolm Little, before he became known as Malcolm X. Was it intimidating to write a novel from the point of view of not only a real person, but a real person who had such a profound, and sometimes controversial, historical impact?
K.M.: Yes. It is first person present tense narrative, which means sitting at the computer and thinking "I" and meaning "Malcolm X." Mind-boggling. It's an emotional roller coaster. At first it's thrilling–what a cool opportunity! A total creative turn-on. But then two seconds later, it's overwhelming. Write from the point-of-view of Malcolm X? How can I do that? I don't have the authority. It's hubris! And so on. In the end, you kind of just do it. We talked about what he would say, what he would do, and we had a clear plot outline and emotional throughline for Malcolm from the beginning, because it's based on his real life and struggles.
E.M.K: You co-wrote X: A Novel with Malcolm X's daughter, Ilyasah Shabazz.  What was it like to work so closely with your character's grown child?
K.M.:  I'm sure I came across as a bit tentative in our early meetings, because it is a little nerve-wracking to sit down for coffee with the daughter of an international historical icon and have to be like, "So…at what age do you think your dad hit puberty?" Ilyasah has answered a lifetime worth of interviews about her father, and yet I think we managed to identify some unexamined areas of his life! Which was the whole point of the book to begin with. Working with Ilyasah's words and ideas gave me confidence to explore Malcolm's voice  and struggles, knowing that she had a strong vision for who he was. We ultimately felt quite comfortable with each other and started freely suggesting, exploring, and rejecting things with respect for one another and deep reverence for Malcolm–as a child, as a man, a father, and a leader. The goal was always to capture the truest possible story of Malcolm in the most compelling way that would appeal to teens, and hopefully readers of all ages.
E.M.K: I would expect many young readers to have an immediate cultural connection to How It Went Down, given the events of the last few years, but I wonder how many young people are familiar with Malcolm X, his life, and his impact on the civil rights and social justice movements. How did you first get interested in Malcolm X?
K.M.: I've been interested in him for a while, probably around the same time I became interested in studying the Black Panther Party and other black community organizing efforts of the day. In the course of trying to broaden my understanding and knowledge of the civil rights era, I became fascinated by reading Malcolm's speeches and his autobiography, because he articulated the struggle of marginalized people so brilliantly. You read his words and you can't help but go, "Hey, yeah! That's exactly how it is! That's so messed up!" That's what made him popular, and that's what made him scary.
E.M.K: What has your experience been in interacting with contemporary teens about Malcolm X? Do they know about him already, or are they learning about him for the first time?

K.M.: It varies widely, how much they know about him. Most teens I've interacted with have heard of him, at least peripherally. Few know much about his life or his ministry. In my experience, young people are typically intrigued by him, and more so the more they learn about him. (Adults are too, actually, yet they tend to have more preconceived negative ideas about him to break through before they become open to learning more.) I'm finding that more and more schools are incorporating some discussion of Malcolm X, the Black Power movement, Black Nationalism, and other aspects of the civil rights struggle that have traditionally been overlooked in mainstream high school curricula. I find this encouraging. We have long taught young students about difficult and controversial subject matter, such as the Jewish Holocaust and the Vietnam War, yet when it comes to the truth about the systematically painful, violent, and shameful treatment of Black citizens throughout the history of this nation, suddenly we shy away from looking at the issues too deeply–especially the part where those oppressed people began to rise up and fight against a system built to keep them literally and figuratively shackled.
E.M.K: Both books examine American race relations, violence, and social justice issues – one from a contemporary perspective and the other from a historical one. Was it difficult or challenging to work on these two books in close succession?  
K.M.: No, I think they actually inform each other. It feels significant to me that, even just within my personal body of work, young readers can get a sense of the scope and history of social justice struggles in America.
E.M.K: Did you have any surprising observations or realizations because of working on these books so close together?
K.M.: It is, of course, sobering to recognize how little has changed about race relations in America over the past 50 years, and the juxtaposition of these two books really highlighted that truth for me. But, there also is much that has changed, such as that a woman of color like myself can publish books about these topics and have them receive multiple starred reviews in mainstream media outlets and reach a wide audience of both teens and adults. There's a widespread interest now in recognizing many diverse voices, and our industry is actively cultivating a respect for books that encompass previously marginalized issues and experiences.
E.M.K: What aspects of the stories felt familiar or common to both books? 
K.M.: Above all, the pervasive nature of the prejudice directed at people of color in the United States. The issues of injustice Malcolm faced as a young teen recur today–in fact, X contains a passing reference to a young black serviceman being wrongfully shot by police, resulting in riots in Harlem, post-WWII. It might as well have been the same incident that sparked the story of How It Went Down — the controversial shooting of a black teen, Tariq Johnson, by a white man in his neighborhood who goes unprosecuted.
Kekla, thank you for sharing insights into your creative process and your experiences in working on and sharing these two wonderful and important books.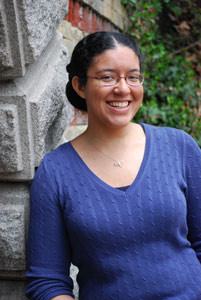 Kekla Magoon is the author of five young adult novels: How It Went Down, Camo Girl, 37 Things I Love, Fire in the Streets, and The Rock and the River, for which she received the ALA Coretta Scott King New Talent Award and an NAACP Image Award nomination. She also writes non-fiction on historical topics, including Today the World is Watching You: The Little Rock Nine and the Fight for School Integration 1957-58 and the forthcoming PANTHERS! The History and Legacy of the Black Panther Party in America. Raised in a biracial family in the Midwest, Kekla now teaches writing in New York City, conducts school and library visits nationwide, and serves on the Writers' Council for the National Writing Project. Kekla holds a B.A. in History from Northwestern University and an M.F.A. in Writing from Vermont College of Fine Arts. Visit her online at www.keklamagoon.com.