In the summer of 1984 Dana Walrath and her husband traveled to the city of Palu in Western Armenia, inside the present-day border of Turkey. There, she saw the mill and lands that once belonged to her ancestors on her mother's side, who were forced to flee when soldiers of the Ottoman Empire massacred the Christian Armenians in 1915. Nearly 70 years later, Walrath met the Turkish woman who now owned the mill and worked the land, an encounter she describes in her Author's Note for Like Water on Stone.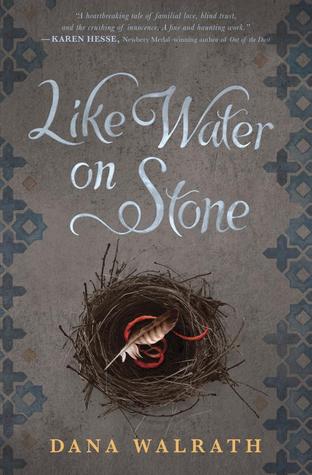 While Walrath has her family story, the characters of this unforgettable verse novel are invented. The story is told from five different points of view—that of the 13-year-old Armenian twins Shahen and Sosi, their older sister Anahid, their younger sister Mariam, and the eagle Ardziv, who observes all from above. The storytellers are survivors and witnesses to the massacre. Each one acts and reacts differently. Five-year-old Mariam struggles to understand what is going on. Her brother Shahen, who feels like an outsider in his own family, dreams of going to live with his uncle in America and getting an education there. Sosi is content to play her part within her family, but when she falls in love, she too begins to defy her strict parents. Nineteen-year-old Anahid, already married to a Kurdish man, awaits her first child as she tries to guide Sosi in the ways of love. Ardziv has already suffered a great loss at the hands of men with drum caps (presumably Turks). Taking on the role of an omniscient narrator, he is both a witness to the genocide and, in an effective twist of magic realism, an active participant in the children's escape.
Walrath explores the complex family dynamics as well as the reasons why the children's father refuses to let Shahen leave for America and to pack up his family when other Armenian families are already making their way to Aleppo and the port city of Beirut. Papa, a musician whose band consists of Armenian Christians and Muslim Kurds and Turks, sincerely believes that the three groups can get along and work together for the benefit of their communities and the Ottoman Empire. Like many victims of genocide, he believes "it can't happen here." Shahen considers his father a "fool," and the father-son conflict at the core of this story will engage readers. The verse format holds the actual violence at a safe distance for young readers while emphasizing the authentic emotional responses of the young characters, and the parallel story of the eagle underscores both the sense of loss and the instinct to survive as the children make their way across a brutal mountainous landscape.