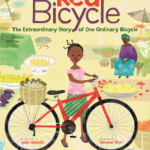 I remember the agonizing wait for my Schwinn LeTour back in 1973, and this book made me remember how important bike transportation was to me back then—a joyful necessity for a boy, as I remember. But it also made me realize what a shame it was that at age 16, I all but forgot about it because I was old enough to drive a car–everyone was doing it. It wasn't until I was long into my twenties that I took up biking for leisure again, and not until really recently that I rediscovered what a great way it is to get around our resort city during the busy months.
Leo, like the me of the early 70s, saves his money for a deeply-desired bicycle he names Big Red. And, like me, he outgrows it. The important difference is that a cycle shop owner suggests he donate it to a humanitarian organization that gets bikes to villages in Africa that need them more urgently. The protagonist is the bike itself, as we see its purpose change from being owned by a westerner for leisure to a girl who works on her family's farm to a woman who delivers medical supplies and transports patients. The Red Bicycle, by Jude Isabella, is able to convey a bunch of good messages ("reduce, reuse, and recycle" comes tritely to mind) without ever sounding like the messenger has one at all. The book is dense with text (32 pages), so early readers will need assistance, but the illustrations by Simone Shin (realistic and yet slightly whimsical at the same time) will help them fill in the blanks.  The publisher suggests it for an age range of 8-12, though the book might be a hard sell for kids that old. There is also an appendix explaining how children can contribute to  the lives of people of humbler economic circumstance.
The Red Bicycle was released on March 1 and is published by Kids Can Press.