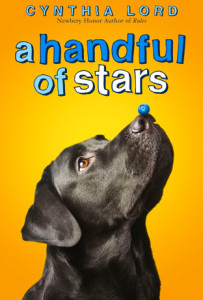 This is a story about blueberries, and migrant workers, and writing, and my friend, author Cynthia Lord. So it's not so much a review. I saw her middle grade novel, A Handful of Stars, unfold over the months of Cindy's writing.   And I've followed Cindy's work since her book, set in the far north of Maine in the rural town of Milbridge, was published. A Handful of Stars is about the evolving friendship of a local girl, Lily, with the daughter, Salma, of a migrant family who come to Maine to pick blueberries. It happens to be late July when I tell this story to you, when the blueberry harvest is at its peak in Maine and every farmer's market and grocery story offers baskets brimming with these sweet, sweet berries.
In the novel, Lily says about the migrant kids, "I usually don't talk to those kids. They usually don't talk to us." But Lily's dog causes her to meet Salma and is the cause or Salma's courage to be vulnerable and extend friendship to Lily. A beautiful scene comes in the book when Lily's and Salma's friendship begins to draw Lily out of her own unhappinesses and losses. The girls are swinging while they make a plan to raise money at the town's blueberry festival. The new Lily emerges as she swings. "The ground sped past. Up I went until my toes appeared to touch the roofs of those little houses. Then even higher! They reached toward the far-off barrens. Free-falling down, down. My hair streamed out in front as the ground rushed toward me and then the swing grabbed and threw me up the other side…This time my toes seemed to skim the mountaintop above the barrens."
I asked Cindy about the life of migrant workers. What was it like for the child? She said, "I was horrified to know that the child labor laws regarding farm work have not changed to protect children in the same way that laws have changed regarding other types of work. A thirteen year old can't spend all day working in an air-conditioned office or at a fast-food restaurant, but he can be outside in 90 degree heat picking crops using sharp tools around dangerous machinery in a field full of pesticides."
A literacy organization in Maine, Island Readers and Writers, sponsored a launch of the novel in the small town where Cindy set the book. Many of the people in the town came. They were deeply honored to have a story told about them. Cindy said, "Some of the people I write about aren't used to seeing themselves in books. Seeing yourself and your world affirmed through a book can be powerful. It shows that you aren't alone and helps you feel included. Ultimately, I write about people I respect and places that touch my heart. I think that comes through to those communities."
The novel ends with joy even though Salma and Lily have to split up. It's a new puppy this time who heals them after a misunderstanding and holds them: "It's pretty near hard to stay mad when a dog is licking your face.And your arm. And your neck."
This is a friendship across differences that will define who two girls will become.