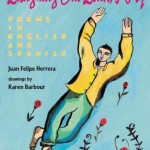 New U.S. Poet Laureate Juan Felipe Herrera, son of migrant workers, writes often about his child self and writes poems for children and teens. Now that he's poet laureate of the country, his books are being rediscovered. I found his beautiful, Laughing Out Loud, I Fly, illustrated by Karen Barbour.  In his preface to this collection of poems in English and Spanish, he writes that when he was seventeen years old he discovered Picasso's book of poems, Hunk of Skin and says he was "bathed in sunlight." He said he was inspired by "Picasso's love of seeing and hearing things differently." He opens with lines from a poem by Picasso:
& a quail a flower vase an inkwell
a plugged nickel a blackbird
a story a pencil a jug…..   –Pablo Picasso from Hunk of Skin
Readers will see how reading Picasso, noting his style, totally captivated Herrera, and see how in some ways his writing is shaped by this voice. Herrera writes that he sat at this brother-in-law's table in San Jose and wrote this book.  Here are a few lines from "Went to the Marketplace & I Bought Beautifuls"
"I went to the marketplace & I bought beautifuls
a swollen street pear, a starry nail
on this side of the corner, milk and slippery bread
and the afternoon light…"
Herrera speaks for children growing up in two cultures through the creation of his characters in his picture books, novels and poems. And he takes great joy in sharing Mexican culture and the Spanish language mixed with English, mixing cultures all up.
As poet laureate, Herrera has invited everybody – all of us, all our ages – to contribute to an epic poem about the American experience as part of his poetry project,  La Casa De Colores. The house of colors, he says, is "a house for all voices."