Welcome to the next stop of the One of Us Blog Tour! I'm pleased to host an interview with debut YA author Jeannie Waudby. Waudby grew up in Hong Kong and now lives in London, where she teaches English. One of Us is a gripping dystopian novel set in a society torn between the majority "Citizens" and the minority "Brotherhood." More than a century of conflicts and restrictive laws against the Brotherhood and their religious and cultural traditions have led to street protests as well as an upsurge of terrorist attacks. Seventeen-year-old K Child, orphaned in a previous wave of violence, has barely survived the bombing of a railway station, and the handsome police agent who saves her has a proposition she can't refuse: Study art — her dream — at a Brotherhood boarding school and spy on the students.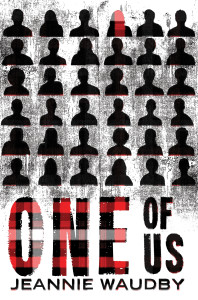 One of Us was first published in the UK by Chicken House and is out this month in North America through Running Press. For more information and to buy the book, visit the Running Press website.
LML: One of Us is set in an alternative present-day society but has many parallels in the present and recent past. What conflicts inspired you in building the world of the novel?
JW: Initially I was thinking of the centuries of conflict between Catholic and Protestant in Ireland and Britain. I see the Citizens and the Brotherhood as coming from the same place, long ago, but over the years growing in hostility towards each other to the point where killing each other seems like a good idea. Then, I also had in mind Sunni/Shia conflict because again they started from the same place. Probably also at the back of my mind was China in the Cultural Revolution (I was a child in Hong Kong during this time) when people were put into categories of unacceptable groups. In my mind the conflict in One Of Us is rooted in animosity towards an entire group of people who are labeled from birth because of the family they come from, and is continued and fostered by keeping the two groups separate.
LML: Names are key to distinguishing citizens and Brotherhood. Why did you choose Brotherhood as the name for the minority group? And why do Citizens have short names and Brotherhood have long names?
JW: The Brotherhood are more traditional because they form the group that has held on to the original religion as it was centuries ago. So they have also retained the Book with its code for living, and a more patriarchal society. Citizens long ago dispensed with the Book and the idea of having leaders who preach, along with distinct differences in dress between men and women. "Brotherhood" felt right as a name because it's a male term that is also meant to include women. Part of the Citizens' rejection of their old Brotherhood roots was to abandon names that are very feminine or masculine and this led to shorter names, K's name being the most extreme example of this. For the Brotherhood, part of celebrating gender includes having very gender-specific names. Girls' names tend to be long and end in 'a'.
LML: How different, really, are the Citizens and the Brotherhood?
JW: Essentially, they are not at all different because they are all from the same country. The main difference is that it feels like a very different country depending on which group you're in – a much more comfortable place for Citizens. As their name suggests, they have a fuller status than Brotherhood. This is because it's against Brotherhood tradition to swear an oath, and one of the requirements for being a Citizen is to swear an Oath of Allegiance – a clever move that shuts out Brotherhood people.
The most obvious difference is the clothes. Citizen clothes and hairstyles are unisex to the point where their clothes are dull and gloomy, while Brotherhood ones are gender-specific – short hair for men and long hair for women. K is surprised to find herself enjoying some of the things that Brotherhood girls wear at the same time as she misses the comfort and practicality of Citizen clothes. Of course, they can also be restrictive, as she finds when she tries to run in her pretty Brotherhood slippers.
The differences are rooted in perception – if someone thinks the very different clothes mean a very different person inside them, then that's what they will see. And because they don't speak to each other much, these superficial differences loom larger.
There are also some cultural differences. For instance, the Citizens have dispensed with marriage, while the Brotherhood tend to marry young. In getting rid of the old traditions, Citizens have given up some of the things that make life fun – music, singing, dancing, weddings, parties, colorful clothes, alcohol, for instance.
LML: How do Citizens and Brotherhood navigate gender relationships differently, and what are the implications for fostering strong, healthy, and equitable relationships between women and men?
JW: To Citizens, equality between men and women is of huge importance. They have reached a point where the genders have equal pay and status – officially. Under the surface, there are still some inequalities. The Brotherhood maintain the idea that women and men are "equal but different." This is something that K finds extremely hard to deal with. Brer Magnus in particular epitomises the superior male figure. Greg and Emanuel on the other hand subvert K's expectations in their willingness to serve others and their equal treatment of the girls. Serafina has a very traditional view of how girls and boys should behave, perhaps because of her strict upbringing. But because there is a great longing among young people to live in a fair and open society, there is also much more willingness among many young Brotherhood people to look beyond the traditional roles for men and women. K has never met any Brotherhood teenagers before, so she is very surprised when she encounters this.
LML: Is there a sequel or companion in the works? What are you working on next?
JW: I haven't written a sequel, but I haven't ruled it out either… At the moment I'm working on a thriller about a fifteen-year old boy called Logan who is on the run from absolutely everybody. I also have a first draft of a story that begins in the time of the Highland Clearances. I'm quite excited to get back to that and there is also a completely new story that I can't wait to begin. I have recently left my teaching job so I will have more time to write.
Now for the giveaway: Running Press is giving away several copies of One of Us through Rafflecopter. Good luck!
Here are the other stops on Jeanne's blog tour:
10/26 Michelle & Leslie's Book Picks
10/28 MomReadIt
10/29 This Wacky Momma Reads
10/30 Read For Your Future (postponed, forthcoming)
11/1 My Dear Bibliophage
11/3 A New Look on Books
11/4 Through the Looking Glass Children's Book Reviews