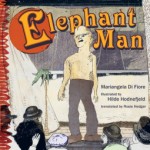 From our favorite Annick Press, another winner to read, if you can keep your heart from breaking. I don't know how I missed this biography of Joseph Merrick in my e-stack. I was fascinated by the movies (The Elephant Man and Mask) and by documentaries on the subject of neurofribomatosis (although Herrick had a number of diseases that contributed to his appearance). This straightforward biography chronicles how his sad childhood and misunderstood condition led to his being sentenced to a workhouse; he only escaped by allowing himself to be exhibited as a freak.
The illustrations are magnificent, a muted pallet with unexpected bursts of bright color. Photographs of Merrick and Dr. Frederick Treves, the kindly doctor who took him in, and other personalities important in Merrick's short life, are intermingled. There are also photographs of buildings, objects and correspondence creatively worked in.
Parents will likely edit what pictures they want to show younger children, though certainly older readers (grades 3-6) have seen more graphic images. Hopefully a book such as this will help young readers (as it did me) confront their natural revulsion for nature's quirkiness, and guide them to understanding the diversity of human appearance. This is a most important primer in our divisive culture where we easily make monsters out of those "others" who don't agree with us.