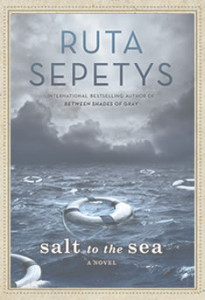 Last month I reviewed the middle grade novel Pax by Sara Pennypacker.  This month I am reviewing a young adult novel that also explores the effects of war on our world. While Pax explores these effects in a near future, in what appears to vaguely be a civil war about water rights, Salt to the Sea by Ruta Sepetys (Philomel, February 2016) focuses in specific detail on both the causes and effects of war through a lesser known tragedy from World War II.
While both books feel timely, there is a chilling resonance while reading Salt to the Sea. At its heart are so many issues we face today. Issue like refugees, cultural and ethnic conflicts, and genocide. Issues like the fact that our most vulnerable people — women, children, the elderly, the poor —  are more likely to be forced from their homes, to be refugees, to be most vulnerable to the atrocities faced by those fleeing war and genocide.  Issues like the scapegoating of those with less political and economic power for political gain. All explored in a fictional tale, set in the midst of a real life tragedy.
In alternating, fast paced chapters, Salt to the Sea follows four young protagonists at the end of World War II.  Joana is a young Lithuanian nurse who was sent away by her family for her own protection. As the novel begins, she is traveling through the dangerous and frigid Prussian countryside with a ragtag band of refugees, fleeing the Russian soldiers raping and brutalizing many in their path. The refugees are all trying to make it to a port where they can hopefully board a ship to safety.  In addition to the mortal threats of war, Joana is haunted by guilt, and channels that guilt into her efforts to heal, comfort, and save those around her. Florian is an injured young man who is trying desperately to hide his true identity. He could be soldier on a secret mission, or a deserter. He carries with him a letter from a high-ranking Nazi and, hidden on his person, the keys to a real life mystery from the war. Florian first encounters Amelia, a pregnant Polish girl carrying secrets of her own, who is in danger from both the Russians and the Germans. Florian saves Amelia from a Russian soldier's assault, and she then saves him from attack – and then won't leave him, even when he wants her to. When Florian and Amelia cross paths with Joana's group, alliances and friendships begin to form, and secrets are revealed. It feels inevitable that this group will ultimately face what is coming in tandem, if not as a unified, cooperative group. If only they can get aboard a ship evacuating civilians and wounded soldiers.  As their interests conflict, their alliances are tested.Young readers will be presented with many opportunities to wonder, "What would I do?" The fourth voice is that of Alfred, a young, low ranking Nazi on one of the ships. His chapters often include delusional letters he is composing in his head to a sweetheart back home, while shirking his menial duties. He will engage with all three of the others to varying degrees, facilitating some of their objectives, and hindering others. As the story progresses, and his delusions are exposed, his true nature will be revealed.
Sepetys captures the desperation and terror of the refugees in brutal and believable detail, while also using moments of hope and humor to explore human nature and the humanity of both the point of view characters, and the varied and well developed cast of secondary characters. All in the shadow of a known fact – the ship on which Alfred is serving, on which the other three are desperate to sail, will be sunk by Russian torpedoes. Their survival is doubtful.  Sepetys's characteristically lovely and compelling storytelling shines, rich in detail and compassion for her characters.
Parallel themes allow for thoughtful discussions of relevant issues facing us today. Alfred is driven by hate, and some element of revenge against all those who belittled him at home. His inability to let go of both will ultimately seal his fate. Florian begins the novel driven by revenge, but will have to decide whether to pursue it at all costs, especially as he grows closer to some of the refugees. Joana is haunted by guilt, but her resulting dedication to healing others helps Amelia and Florian, and helps Joana herself to heal. Amelia must give up a beautiful illusion to survive what she has suffered, and to save her child. Alfred's delusions fade to reveal an even more insidious truth. All of the characters must at times lie, and hide things about themselves, but those who can face the difficult truths just might survive.
I can think of few books more relevant to the political and world news flooding our media daily. It will engage young readers with the human stories of a little discussed real life tragedy, while also helping them think about what it means to be caught in our current conflicts, and why those conflicts are occurring.