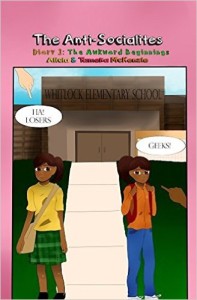 Attending the Brooklyn Book Festival's Children's Day for the first time last September, I came across a lone booth in the middle of the plaza. There Alicia and Tameka McKenzie were selling their self-published series for middle graders, The Anti-Socialites, which debuted in 2014. The McKenzie sisters are young African-American authors, and their booth had a small but steady stream of visitors. Their work as self-publishers, selling directly to the public, follows a long-established tradition of African-American writers who find themselves shut out from traditional publishing and who take their case directly to the public. Many of these self-published authors have gone on to major success and visibility, their work embraced by a reading community that also feels shut out in terms of their needs and interests.
The McKenzie sisters compare their books to Diary of a Wimpy Kid and The Dork Diaries, which are apt comparisons and especially ironic because Rachel Renee Russell, the author of The Dork Diaries, is African American but features mostly white characters in her books. The Anti-Socialites, thus, is a kind of response to Russell's approach, as the twin protagonists of the McKenzies' series, Asia and Tasia McKinley, are African-American fifth graders in an ethnically and economically diverse urban school. Asia and Tasia's dilemmas, though, could happen to anyone, anywhere.
In Diary 1: The Awkward Beginnings, the twins are in separate classrooms, but no matter where they are, they occupy the lowest rungs of the social ladder. An important digression here: The authors, unfortunately, describe their status as "the bottom of the social totem pole." If you are a writer, please do not use that worn-out, expropriative, and inaccurate expression. Totem poles are sacred objects, and using them out of context violates that sacredness. Furthermore, the oldest and most revered ancestors are the ones carved into the bottom of the totem pole. If you would like to indicate low social status, a far better choice would be to use a culturally neutral symbol, like a ladder. Or a hill. Or a food chain. And do keep in mind that we at the bottom of the heap could one day turn out to be like Dr. Seuss's lowly turtle Mack, who wreaks his revenge against Yertle the Turtle with a single burp.
Back to my regularly scheduled review. As an "Anti-Socialite" throughout my school years, I found much in common with Asia and Tasia, from choking at the regional spelling bee where I was supposed to represent my school to believing that the most popular boy liked me when it all turned out to be a prank. The twins' voices are spot-on, and despite being identical, they have unique voices, personalities, and interests. The artwork by Rachel McKenzie is as honest and unfiltered as the youngsters' voices. Readers hope, as Asia and Tasia do, that the boy really likes them (more Asia's story) or the new girl really does want to be their friend. While the girls have each other, their mother, and their siblings, they tend to compete against each other, so they're not as supportive as one might wish. That, too, is realistic, and offering support to each other is one of the things they have to learn.
A lot of Diary 1: The Awkward Beginnings had me laughing out loud, and I know that if I'd read a book like it when I was in elementary school, I would have felt less alone, as if I had a friend (or a couple of friends), if only in a book. Other bright but socially awkward elementary schoolers will find much to like, too. However, the teachers aren't very helpful to the girls. Ms. Strict, Asia's teacher, doesn't offer much comfort to any of her students. Ms. Suarez, Tasia's teacher, is sweet and encouraging to Tasia in private but does little to stop the open bullying that goes on in her class. Maybe the girls will have better luck in future years, in middle school. I, for one, will return to their booth at the Brooklyn Book Festival this coming year to find out.