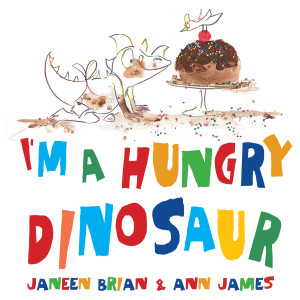 When a little dinosaur's tummy is hungry, what else can be done but to bake a cake? In Brian's and James' sequel to "I'm A Dirty Dinosaur," (2013) the whimsical little dinosaur returns taking readers on a spirited step by step adventure into cake baking. Through it young readers will experience the joy of creating something all by themselves.
Each step of the story is delineated: "I'll shake and stir and mix and beat and make a cake that's yum." Every step is then followed by a lively refrain in bold, colorful text: "Shake, Shake, Stir, Stir, Make a cake that's fun!" This rhythmical formula is followed throughout this short but sweet story.
Besides enjoying this book for the fun read that it is, teachers or parents of primary children could use it in a variety of ways. It is a natural read-aloud that provides a paired reading opportunity to increase fluency, listen for rhyming words, and develop vocabulary skills: adults could read the "steps" followed by the children chanting the refrains or vice versa. The refrains also lend themselves to introducing the concept of active verbs: each one is chock full of them. The verbs could also be used as gross motor or dramatic play activities by acting them out. Perhaps some families would be inspired to bake a cake of their own?
James' active line drawings plus bold use of color add to the playful tone of Brian's text. "I'm a Hungry Dinosaur" would make a great addition to a primary classroom or home library.