World War II had just ended. Families in Europe were starving. Many were homeless. Farmers had lost their livestock, their fields, even the seeds needed to replant.
THE SEAGOING COWBOY describes in simple, effective words and illustrations the relief program, Heifer International, that sent over 200,000 horses, mules, and heifers to families devastated because of the war.
That's a lot of horses, mules, and cows! Ships were donated. Animals were loaded. But who would take care of all those farm animals during the long ocean voyage? The request was put out and folks from all types of backgrounds – bankers, preachers, teachers, and students – said they'd give it a try.
Over 7,000 men and boys, ages 16 to 72, traveled as volunteer "seagoing cowboys" feeding, cleaning, and caring for animals that were often upset or sea sick. These farm animals were essential in helping many parents and children rebuild their farms and homes.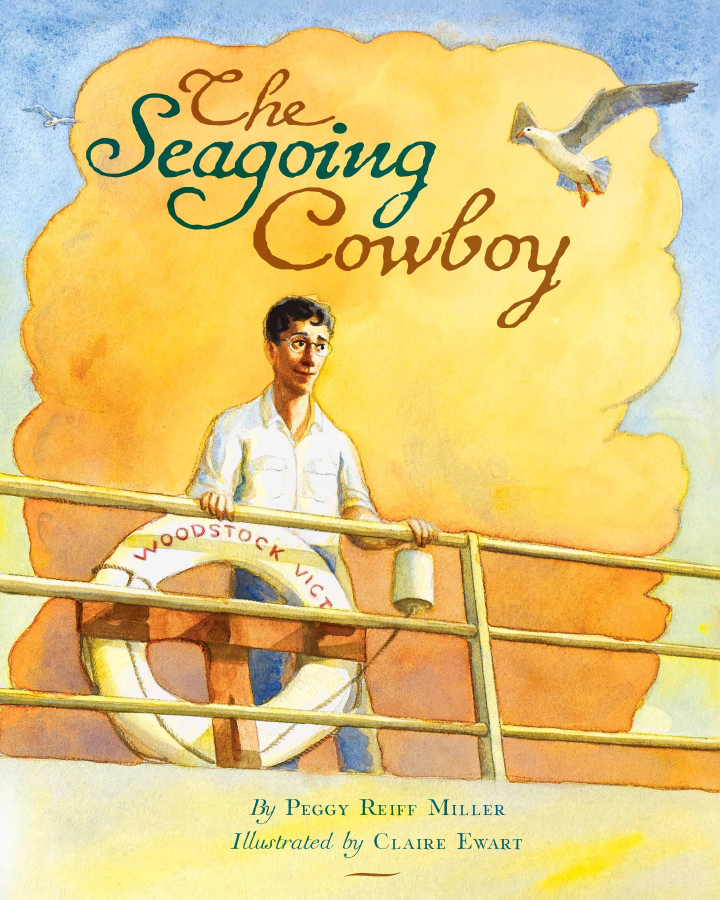 The author, Peggy Reiff Miller, is the granddaughter of one of those cowboys and she tells quite a tale of how her Grandpa had a eye-opening adventure and many surprises, including helping deliver a baby calf.  Peggy says, "With this book, I wanted to give families a tool to share the story with the younger generation – a story of how people helped to repair a broken world after a major war." Over 44 nations worked together. This international program eventually evolved to become – and still is – The Heifer Project, known as Heifer International.
The SEAGOING COWBOY is an engaging and inspiring story and a wonderful way to talk about how we each can help people today whose homes and farms have been devastated because of war. How fun to choose between giving a cow, a chicken, or a lamb to another child and thinking beyond one's own secure and safe world. Take a look at today's Heifer International, www.heifer.org.