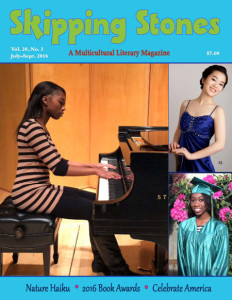 For 28 years the non-profit multicultural children's magazine Skipping Stones has offered young readers a journey around the world without their ever having to board an airplane. Founded in 1988 by educator Arun Toke, the quarterly magazine offers articles for children from the elementary level and up on the lives of people in diverse lands, environmental sustainability, and social action. Each issue features essays, poems, stories and art by children and teenagers living in the United States and around the world, and the September-October issue presents the winners of the magazine's annual youth writing and art contests. The magazine also features articles, poems, stories, artwork, and photography by adults who write for children, many of whom live, or have lived, in Latin America, Africa, Asia, and the Pacific.
Every summer issue presents the winners of the prestigious Skipping Stones Honor Awards. While each issue contains a Bookshelf with reviews of recommended books, videos, and teaching resources, the Honor Awards present the best of the best, published in the last two years, in the categories of Multicultural & International Books, Nature & Ecology Books, and Teaching Resources. These are the 2016 winners; for reviews of the books, please visit the Skipping Stones website, www.skippingstones.org.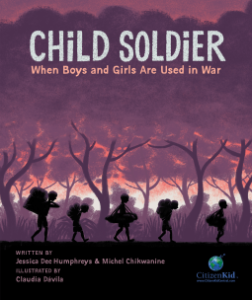 Multicultural and International Books
Baby Talk Bilingual Board Books/Palabras del bebé Libros Bilingües, by Katherine Del Monte, illustr. Noël Ill. A set of five books. www.LecturaBooks.com
I am Hapa! by Crystal Smith; photos: Michael Satoshi Garcia. English/Spanish/Chinese. www.Eastwestdiscovery.com.
Lo que mi abuela me dijo/What My Grandmother Told Me: Practical Wisdom from Spanish Proverbs and Sayings by Maria Paz Eleizegui Weir, illustr. Mahala Urra. All ages. www.unmpress.com
El Día de los Muertos/The Remembering Day by/por Pat Mora, illustr. Robert Casilla. Ages 7-9. www.artepublicopress.com
My Tata's Remedies/Los remedios de mi tata by Roni Capin Rivera-Ashford, illustr. Antonio Castro L. Ages 7-11. www.cincopuntos.com
Lailah's Lunchbox: A Ramadan Story by Reem Faruqi, illustr. Lea Lyon. Ages 5-9. www.Tilburyhouse.com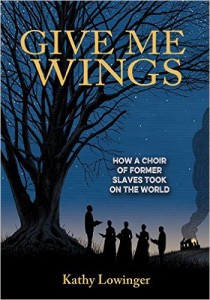 Mango, Abuela, and Me by Meg Medina, illustr. Angela Dominguez. Ages 5-8. www.candlewick.com
Growing up Pedro: How the Martinez Brothers Made It from the Dominican Republic All the Way to the Major Leagues by Matt Tavares. Ages 8-12. www.candlewick.com
The Green Musician by Mahvash Shahegh, illustr. Claire Ewart. Ages 6-9. www.wisdomtalespress.com
Pine and the Winter Sparrow Retold by Alexis YorkLumbard, illustr. Beatriz Vidal. Ages 4-8. www.wisdomtalespress.com
Whispers of the Wolf by Pauline Ts'o, illustr. Pauline Ts'o. Ages 5 and up. www.wisdomtalespress.com
Daddy's Heart, My Heart, The Purple Heart by Angela Kohout, Madeline Murillo and Elizabeth Sagi. Ages 8-13. Available at www.createspace.com
Voice of Freedom, Fannie Lou Hamer: Spirit of the Civil Rights Movement by Carole Boston Weatherford, illustr. Ekua Holmes. Ages 9-13. www.candlewick.com
For The Right to Learn: Malala Yousafzai's Story by Rebecca Langston-George, illustr. Janna Bock. Ages 9-12. www.Capstoneyoungreaders.com
Child Soldier: When Boys and Girls Are Used in War by Jessica Dee Humphreys & Michel Chikwanine, illustr. Claudia Dávila. Ages 10-15. www.kidscanpress.com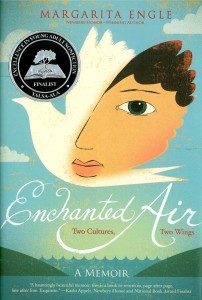 Prison Boy, a novel by Sharon E. McKay. Ages 11-17. www.annickpress.com
Stella by Starlight, a novel by Sharon M. Draper. Ages 10-14. Atheneum; www.kids.Simonandschuster.com
Give Me Wings: How a Choir of Former Slaves Took on the World by Kathy Lowinger. Ages 11-17. www.annickpress.com
My Seneca Village by Marilyn Nelson. Poetry. Ages 12-18. www.namelos.com
The Hero Twins: A Navajo-English Story of the Monster Slayers by Jim Kristofic, illustr. Nolan Karras James. Ages 11-15. www.unmpress.com
Enchanted Air: Two Cultures, Two Wings by Margarita Engle. Ages 12-17. www.teen.Simonandschuster.com
Urban Tribes: Native Americans in the City, edited by Lisa Charleyboy and Mary Beth Leatherdale. Ages 15 and up. www.annickpress.com
Nature and Ecology Books
Crane Boy by Diana Cohn, illustr. Youme. Ages 5-9. www.cincopuntos.com
If You Love Honey: Nature's Connections by Martha Sullivan, illustr. Cathy Morrison. Ages 4-9. www.dawnpub.com
Camas & Sage: A Story of Bison Life on the Prairie by Dorothy Hinshaw Patent, illustr. Christina Wald. Ages 7-10. Mountain Press.
Animal Hero Kids: Voices for the Voiceless by Susan Hargreaves. Ages 10-15. www.animalherokids.org
5 Elephants by Rob Laidlaw. Ages 10-15. www.fitzhenry.ca
Teaching Resources
Rhythm and Resistance: Teaching Poetry for Social Justice, edited by Linda Christensen and Dyan Watson. All grades. www.rethinkingschools.org
A History of Civilization in 50 Disasters by Gale Eaton; Phillip Hoose, series editor. Upper grades. www.tilburyhouse.com
Rethinking Sexism, Gender, and Sexuality edited by Annika Butler-Wall, Kim Cosier, et al. All grades. www.rethinkingschools.org