Forty years ago Ron Kovic's memoir, Born on the Fourth of July, was released and soon sold over one million copies.   The movie version, co-written with Oliver Stone and starring Tom Cruise as Kovic, was the 1989 Academy Award-winning film. Kovic's memoir tells of his re-entry into the U. S. after serving two tours of duty in Vietnam and returning home paralyzed from his chest down. Kovic writes "with force and conviction" and with straightforward honesty.
HURRICANE STREET, Kovic's new memoir, documents his fight to improve treatment of injured and disabled veterans. In 1974 as the last American troops were leaving Vietnam, Ron Kovic with other severely injured veterans in a California VA hospital started the American Veterans Movement (AVM). The movement received national attention as Kovic with other AVM members staged a sit-in and then a hunger strike in the Los Angeles office of Senator Alan Cranston. Their demand was simply – decent care and treatment of injured and disabled soldiers.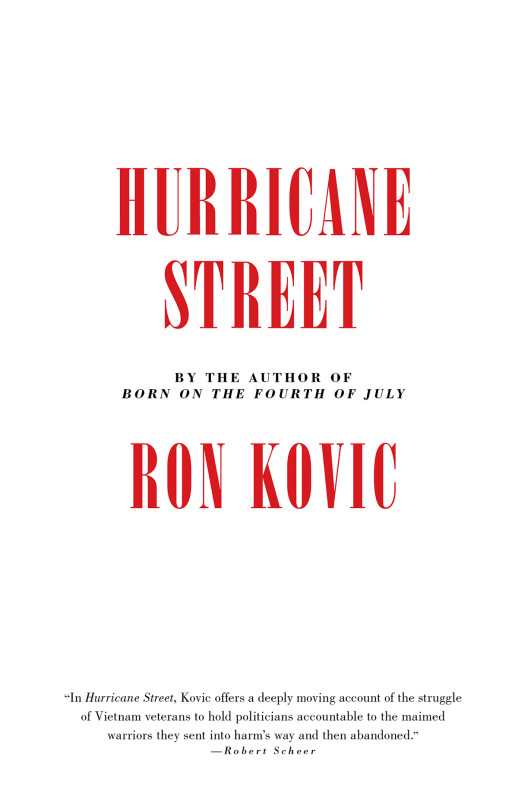 HURRICANE STREET is as relevant this Fourth of July as Kovic's previous book.
Are we doing a better job of honoring, healing, and thanking the women and men who have served in the military and returned home, often a stranger, often jobless, often with visible and invisible injuries?
"…Ron is a true American, and his great heart and hard-won wisdom shine through these pages."   Oliver Stone
Publication date: July 4, 2016 by Akashic Books