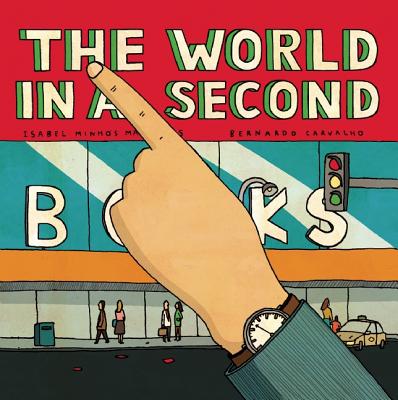 Take one second, just one, and imagine all the events happening to all the many people living in all the different countries around the world. In this award-winning picture book, each double-page presents an illustration that shows a place and person and suggests the question: "What is this person doing right now in a country far away?"  The reader feels a familiarity about the situation (will I tumble off my bike?) as well as a recognition of "that place is different from my place."
THE WORLD IN A SECOND was  imagined and written by Isabel Minhos Martins from Lisbon who is also an illustrator.  She has such an imagination that she created a publishing house, Planeta Tangerina, that was selected as "Best European Publisher for Children" by the Bologna Children's Book Fair.  The illustrator for this very unusual and delightful book is Bernardo P. Carvalho, also from Lisbon.  For his extraordinary illustrations for children's books Bernardo was awarded the Andersen Prize, Italy's highest award for children's books.  The translator for THE WORLD IN A SECOND was Lyn Miller-Lachmann who often lives in Lisbon and is the author of several award-winning books including Surviving Santiago.
I asked Lyn why she feels it is important for children to read books from other countries and why more children's books should be translated.  Here is Lyn's response:
Exposing young readers to the literature of other countries in schools and libraries and at home is key to first-class global citizenship. If young people don't have this exposure to diverse cultures and ways of seeing the world, they will be less able to adapt, leaving them at the mercy of local and global economic and political forces, with opportunities closed off to them. We want our young people to be open-minded, capable of working with others from around the world, and prepared to collaborate and solve problems in peaceful and creative ways.
I would add that seeing and reading the art and stories from other countries is delightful, surprising, and stimulates creativity, new ideas, new ways of seeing the world, and new ways of imagining.  Thank you, Enchanted Lion Books, making THE WORLD IN A SECOND available here in the U.S. and in English.