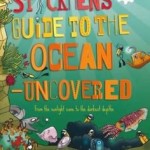 This book is non-fiction, but it's as fascinating as if the stories were invented. Sea creatures, bizarre flora, and the scariest element of all–humans! The Stickmen are little stick adventurers who have also ventured beneath cities and inside watercraft and aircraft, and now take us on a tour of the ocean.
The illustrations humorously complement the accessible text, and serve as a bit of a comic relief in the face of the no-nonsense defining of humans' effect on the aquatic environment (trash islands, oil spills) which are integrated with instructional information.The book provides clear and easy definitions of plant and animal life, and microorganisms.
Children (the book is aimed at third through sixth graders) will be thrilled with the discoveries of wild animal and plant life that reside deeper in the ocean than we generally think about, and will be surprised to discover how the oceans themselves are vastly complicated and geologically diverse.
Stickmen's Guide to The Ocean–Uncovered is part of the series Stickmen's Guide to This Incredible Earth and is 32 pages deep. It is being published this fall by Hungry Tomato, an imprint of Lerner.