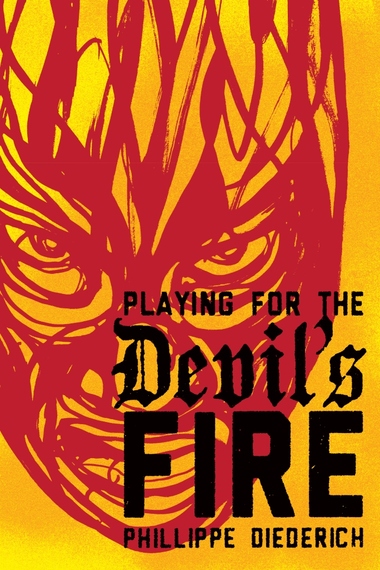 Set in a contemporary Mexican village called Izayoc ("place of tears" in the Nahuatl language), Playing for the Devil's Fire follows 12-year-old Liberio "Boli" Flores, the son of the town baker (hence his nickname) who observes violence coming to the village along with a new highway. It begins with the severed head of his teacher appearing in front of the church after Sunday Mass. A teenage girl turns up dead as well. On their way to a nearby town to report the crimes and the local constable's inaction, Boli's parents disappear.
Boli's hope to see his parents again lies in his Catholic faith and in a Lucha Libre wrestler named El Chicano Estrada, who arrives in town as a substitute for a match. The wrestler, though, is a washed-up drunk. He challenges Boli's belief in the ultimate triumph of good over evil that the plot lines of Lucha Libre represent, but on one level he believes them as well, to the point that he chooses to stay in Izayoc and seek redemption rather than moving on to safer venues. He and Boli band together to save lives, bring back the missing, and stop the town's destruction. But will their efforts be enough?
Playing for the Devil's Fire is an engrossing, perceptive novel that resonates on both sides of the border. While the drug trade instigates the violence, it isn't the only thing. Money is the root of evil, and many of the newcomers want to drive out small local businesses to establish outposts of larger chains, part of a predatory global economy. The new money — much more than anyone has ever seen — buys police, politicians, and priests alike. Those who resist are killed in the most brutal ways — or they disappear altogether, leaving their families no closure. The setting is well drawn, showing the village of small businesses and people who care for each other – the bakery, for instance, has given a recovered alcoholic baker a second chance at life and donates its unsold rolls to people in poverty – facing real estate speculators who follow the Narcos into town and see the highway and supermarkets as progress without asking questions about the dead.
…
Author Phillippe Diederich has stopped by to answer a few questions as part of the Playing for the Devil's Fire blog tour. For more on the book and the tour, check out yesterday's review at Rich in Color and Sunday's post at Clear Eyes, Full Shelves.
Why did you decide to write this story as a Young Adult novel, from the perspective of a 12-year-old boy?
I really was not thinking of a young adult novel. On the one hand I wanted to write a novel my son would read. (He's now 13). And I was also heartbroken by the Narco violence and impunity that is going on in Mexico. I wanted to address this in a book, hopefully a powerful book, that would bring attention to the problems the average person in Mexico might be going through. The issue I had was that I did not want to write a book that glorified the Narco violence or that tried to dig in and uncover that world because much of that has been done quite well with non-fiction books as well as adult fiction. Writing the book from the perspective of a 12-year-old boy would allow me to filter the violence through his innocent eyes. This also made it easy to not get into details of how Narcos operate and would also allow me to express my own sadness for what Mexico is going through. That the book became a young adult book is something that was decided by the publisher. I agreed with them because I think it made sense. I wish young people as well as adults would read the book, especially if they are interested or have a connection to Mexico.
The Catholic Church as an institution and religious faith play a key role, but they often seem to be in opposition to each other. How does the novel address the tension between the two and the place of the Church in Mexico today?
Mexico is a deeply religious place, and mostly Catholic. But the Catholic Church in Latin America has a history of abuse. From converting Indians during the time of the Conquest and building churches over native places of worship, to appropriating land and enriching itself from the sweat and blood of the natives. I believe Pope John Paul II apologized for these abuses in the 1990s. I wanted my main characters to have their trust in God and in the Virgen de Guadalupe, the patron saint of Mexico. But I wanted to pit the establishment of the church (the institution) as something that was flawed and corrupt. I think my point is that religion is ok, but institutionalized religion can be corrupt. And I say 'can' because not all of it is. I just wanted to make a point. In the end the Church in Mexico is extremely powerful and I believe they could take a stronger role in condemning the violence and the government for its inaction.
What do you want teen readers to take away from Playing With the Devil's Fire?
I would like readers to see how the arrival of narcos, with the cooperation of the authorities, take over a town and destroy something that is beautiful. We often see all this in the news but we're becoming immune to what is happening. I hope my book can tug at people's hearts and motivate them to empathize with the Mexican people who lately have been demonized by some U.S. politicians. I wanted to put a human face to the reality that poor Mexicans in rural Mexico are living through. And I would like everyone to ask themselves: why do we hurt each other so much?