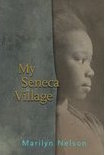 My Seneca Village
By Marilyn Nelson
Most people in the United States have heard about New York City's Central Park, but few have heard of Seneca Village, a community built on a portion of land that later was developed into Central Park. In 1825 Seneca Village became the first community of African American homeowners: 246 people lived there with such amenities as a school, churches, businesses, and boasting an apple orchard. By the 1840s German and Irish immigrants settled nearby, making the community more culturally diverse.
In 1857, however, New York state legislators seized 700 acres by the power of eminent domain so the residents of Seneca Village were forced to move. The legislators argued that a public park would benefit many urban residents; the swampy land near Seneca Village was filled in, thousands of trees were planted, and many other improvements were made. Central Park was created, but Seneca Village was erased and virtually forgotten.
Nelson's slim novel of prose paired with verse contains imagined voices from this unique community. The characters range from a young bootblack to a gifted conjurer; an elderly widow who is also a conductor on the Underground Railroad; Irish immigrants who arrived with only the clothes on their backs; to abolitionists, Maria W. Stewart and Frederick Douglass who both speak on the injustices of slavery.
Award-winning author Nelson weaves historical facts within the novel to give readers deeper insight into this little-known part of American history. It will be a thoughtful addition to a school or home library.
Grades 5 and up.