Welcome to the first of two reviews of William Morris Award finalists, given by the Young Adult Library Services Association of ALA (YALSA) to outstanding debut YA novels! Today's finalist is M-E Girard's Girl Mans Up, published by HarperTeen.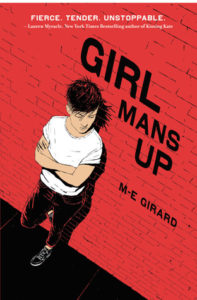 Set in Canada, in a suburb of Toronto, Girl Mans Up is the story of 16-year-old Penelope (Pen) Oliveira, an avid gamer who at the beginning of the novel is baiting girls for pickup by her friend, neighbor, and fellow gamer Colby. For years, Pen has hung out with the boys and helped Colby despite crushing on many of the same girls. When Pen discovers classmate Olivia, one of Colby's conquests, puking in the school bathroom because she is pregnant with his child, Pen questions her role, and when Colby's behavior turns abusive to both her and Olivia, their friendship is further tested.
Complicating Pen's newfound courage, her desire to "man up," are her Portuguese Canadian parents and drunken Tio Adão, who hope that Colby can make Pen act and dress more like a girl. When things go in the opposite direction – Pen cuts her hair short, wears, in her mother's words, "punk druggy" clothes, and fails to show respeito (respect) in other ways – family conflicts escalate. Pen's older brother João (Johnny) looks out for her, but he ends up on the wrong side of everyone, forced to move out of the family home into his own apartment nearby. When Pen's mother catches her sleeping in Johnny's old basement room with another girl, things reach a crisis point.
Girard deftly balances the multiple conflicts and relationships: Pen and her ultra-conservative parents (more typical, by the way, of people who left Portugal from the 1970s through the 1990s as the Oliveiras likely did, than of my friends and colleagues in Portugal today), Pen and her Portuguese-born older brother, Pen and Colby, Pen and Olivia (who are just friends), and Pen and Blake (who are lovers but must also navigate their friendship along with the romance). Pen is sure of her identity – genderqueer, attracted to girls, and comfortable in her female body. Her journey is a moral one, from someone who would compromise her principles out of misplaced loyalty or expediency to someone her friends can count on to do the right thing. With its sympathetic, outspoken protagonist, this #ownvoices novel is a fresh, delightful read.