TALKING LEAVES by Joseph Bruchac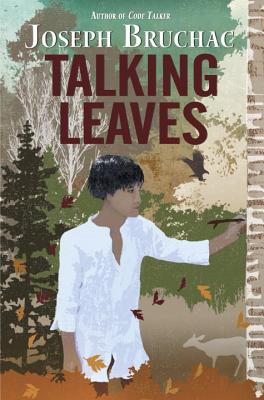 In the mid-1800's a Cherokee man known as Sequoyah, invented an entire writing system for his people. The Cherokee still to this day use his system.
Sequoyah realized the power and importance of keeping one's tribal language alive. He observed that when a language cannot be written and shared, then an alternative language is forced onto people.
Sequoyah's own people laughed at him. They said he was crazy to try such an impossible task. Maybe he was attempting witchcraft or black magic. Others shunned him. His log cabin home was burned down and all his writing was turned into smoke. But even that did not discourage Sequoyah. Instead he responded that sometimes disaster happens for a reason. Sometimes the message is, "follow a different path."
That is exactly what Sequoyah did. Instead of drawing a different symbol for each word, he invented symbols or letters to spell out the sounds of the Cherokee language. Finally he had enough letters, about eighty-four. People took notice and stopped laughing when Sequoyah's little daughter, Ayoka, learned to read!
—Joseph Bruchac tells the story of Sequoyah, the creator of the Cherokee syllabary, through the eyes of Sequoyah's son, Jesse. Bruchac weaves details of Cherokee customs, stories, and life while showing how the Cherokee language came to be written, a valuable perspective on Cherokee history and the life of Sequoyah.
Jane Yolen praises TALKING LEAVES with these words, "I want to thank Joseph Bruchac for giving the reader such an intimate portrait of the brilliant Cherokee Sequoyah… even more I want to thank Bruchac for the powerful peek into the daily life of the Cherokee people…."
Another look at this remarkable man is found in James Rumford's SEQUOYAH.THE CHEROKEE MAN WHO GAVE HIS PEOPLE WRITING. In this bilingual picture book one can compare the English words with the beautifully scripted Cherokee words. Anna Sixkiller Huckaby, translator, is a full-blood Cherokee tribal member and fluent in spoken and written Cherokee. This remarkable woman was named a Cherokee Living National Treasure by Cherokee Nation Principal Chief Wilma Mankiller.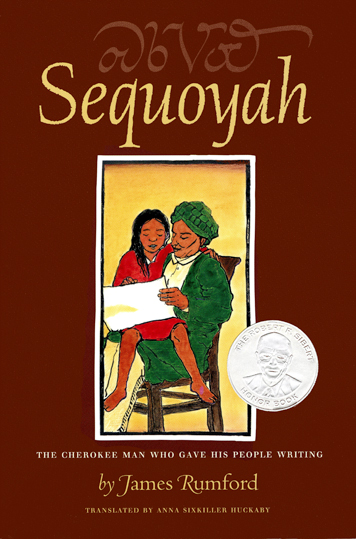 Both books, Joseph's Bruchac's TALKING LEAVES for middle-grade readers and James Rumford's picture book, SEQUOYAH, are "poems to celebrate literacy and songs of a people's struggle to stand tall and proud."
Talking Leaves, Dial Books: 256 pp. Gr. 4 and Up. Historical Fiction
Sequoyah, Houghton Mifflin Co, Gr. 2 and Up. Picture book. Historical Fiction
Sequoya, The Cherokee Man Who Gave His People Writing, written and illustrated by James Rumford, Translated into Cherokee, Sequoya's writing system, by Anna Sixkiller Huckaby