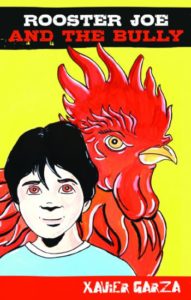 At a time in which bullies seem to be gaining the upper hand, it's important to help young children resist in positive and effective ways. Xavier Garza's "upside down" or "flip" book (in English on one side, Spanish on the other) Rooster Joe and the Bully/El Gallo Joe y el Abusón appeared in 2016 from Arte Público's Piñata Books imprint and is now more relevant than ever.
Joe López, a seventh grader who loves to draw, is tired of seeing eighth grade bully Martín Corona push smaller kids around and steal their lunch money. When he disrupts the shakedown of Luis, one of the smaller sixth graders, Martín demands that Joe give him the five dollars. Joe's best friend, Gary, loans him the money out of loyalty, but Joe doesn't want to give in. He knows that paying off Martín and his cronies will only make the situation worse.
Joe likes drawing roosters best, and when he spends the weekend with his artist grandfather, working on a project for a local contest (which he also doesn't think he can win because it's open to both middle and high school artists), they talk about the bravery of the rooster. Grandpa Jessie tells Joe about César Chávez and Emma Tenayuka, who stood up to powerful bullies in society. When Joe inadvertently humiliates Martín and Martín pledges revenge the following week, Joe puts Grandpa's advice to the test.
This short, fast-paced novel is full of humor and surprises that will delight young middle grade readers. Joe's inadvertent humiliation of Martín is sure to garner laughs from elementary school readers, but Garza makes a serious point as well. While it's fun to poke at a larger adversary, nothing will change for good until people join together and force a change. The translation by Gabriela Baeza Ventura flows well, with idiomatic Latin American Spanish that will appeal to young readers for whom Spanish is the first language as well as those seeking to reinforce a heritage language. Garza is also a prominent graphic artist living in San Antonio, Texas, and his vivid, concise description is another strength of a novel that appears to be light reading but packs a powerful, nonviolent punch.