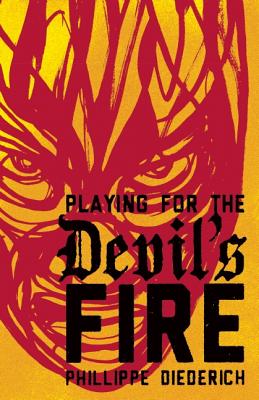 Playing for the Devil's Fire, written by Phillippe Diederich and published by Cinco Puntos Press, is a brutal but gripping story that tells the struggle of 13 year-old Libero "Boli" Flores to save his family and his beloved town from the deadly new arrivals who carry shiny new guns, wear expensive clothes, and drive big SUVs. Boli quickly observes that when people speak out, they show up dead.
Photojournalist Philippe Diederich wrote his debut YA/new adult novel "as a way of communicating his sorrow and anger at the brutual narcoviolence and corruption infecting Mexico."   The story is heartbreaking but is equally poweful and beautifully written.  The characters become beloved and ones you will remember for a long time.
This is not a book for middle grade or middle schoolers. I suggest PLAYING FOR THE DEVIL'S FIRE for young adult and adult readers, because it is a brilliantly written book that will make readers think, and hopefully, talk.
Playing for the Devil's Fire has received a starred review from Publishers Weekly.
Philippe Diederich grew up in Mexico City where he played marbles in the streets and became a fan of lucha libre. This is his first novel for young adults, but his mystery, Sofrito, is a culinary mystery that travels from Havana to New York City. His author website offers a newsletter and more information.