"The Sky Throne" by Chris Ledbetter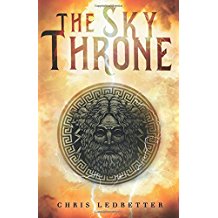 Teen-aged Zeus doesn't care much about becoming a goat herder like his mother, Amalthea, and even less about school on Crete. After two years at the local academy, he is still being treated like an outcast. To become popular, Zeus begins to pull pranks on some of the professors. After he plays one on a respected professor, the Headmasters Okeanos and Tethys have no choice but to expel him as well as his sidekick and good friend, Anytos. A few days later, an Elder Deity, Hyperion, descends from the skies to fulfill a prophecy by the Oracles. Though the boys fight to resist them, Hyperion and his cronies end up injuring Amalthea and worse, killing Anytos. Later, Zeus discovers that Amalthea is not his actual birth mother. No longer safe on Crete, Zeus is taken to Mount Olympus Preparatory Academia where he resolves to avenge the woman whom he loved as a mother as well as the wrongful death of his best friend. However, when some of his new classmates begin to mysteriously disappear, Zeus decides to gain access to the forbidden Sky Throne to combat his enemies and in the process, Zeus learns how to wield true power.
Ledbetter's ambitious and unique twist on the familiar legends of the Greek gods and goddesses is a fresh take on mythology and should appeal to middle school and high school readers in particular.