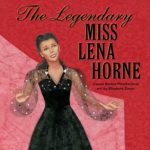 Perhaps no singer-of-color, especially one of Lena Horne's generation, can have a career unaffected by the politics of race. What is revealing to me in this beautifully-illustrated [by Elizabeth Zunon] book is the depth of Horne's involvement in bringing about social justice, both by direct political action and by artistic determination. I was only vaguely familiar with Horne as a night-time talk-show guest, so this book reveals a multi-dimensional performer who transcended the boundaries of her celebrity.
The book is gentle, even as it reveals the harsh realities of Black American history. Horne sustained traumas unimaginable for a child, a volatile family, and the witnessing of beatings and lynchings. Showbiz was also brutal–the audience at the Cotton Club where Horne made her debut (with mentors like Duke Ellington and Cab Calloway) white-only and performers did not mingle with patrons. Black musicians were subjected to the indignities of back-door entrances and rejections from restaurants and hotels; Horne slept on a tour bus seat, while the white orchestra that played behind her found real accommodations. She witnessed the ironies of German POWs being treated with more respect than Black military personnel. And because of her association with civil rights leaders, she drew the sinister interest of the House UnAmerican Committee, which got her blacklisted. She eventually was billed as Cuban, in order to make her skin color less displeasing to the public.
Horne's achievements are given most of the spotlight here, and that contributes to the book's general spirit of hope and determination. (The oil paint and cut-paper collages are gorgeous and complement the text in mood and tone.) Horne was the first Black singer to lead a white band, the first actress to sign a contract with a movie studio, and the first Black actress to reject roles as maids and mammies. After her marriage to a white music director in 1947, her career took off, though she was not off the black list for another decade. She had a prominent role in the Civil Rights movement, and admirably, for this she put her career on hold.
One of the dedications in the book is "To all the little girls and boys dreaming big dreams." Hopefully books like this encourage the kind of optimism, sense of self-worth, and ambition that any human needs to navigate their life's path.
The Legendary Miss Lena Horne comes in at 48 pages and is targeted at readers 4-8 years old. Or my age, even. It was published in January by Atheneum Books for Young Readers.