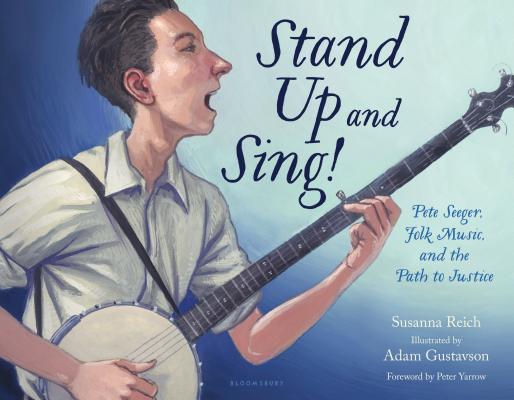 STAND UP and SING! Pete Seeger, Folk Music, and the Path to Justice
Written by Susanna Reich, Illustrated by Adam Gustavson
Foreword by Peter Yarrow
"If you despair, what happens to the many, many people like myself who look to you constantly for hope?" wrote a fan to Pete Seeger.
Many reasons had piled up to make Pete Seeger despair. He had been blacklisted as a potential "enemy of the State" and for over seven years fought for his innocence in court under the threat of serving time in prison. Pete's hero and friend, Dr. Martin Luther King had been shot and killed. Across the country groups were using violence to prevent integration and undermine the rights of many. Pete Seeger, the voice of the people yearning to see justice and true freedom for all, questioned if singing did have the power to change the world. What could one voice do?
Pete Seeger realized again, felt hope again, continued the struggle and the song, "We shall overcome." Once again Pete picked up his banjo and sang out the words that brought people together. As a visual symbol of hope and change Pete and his wife Toshi with friends built an old-fashioned sailing boat, a sloop, that would sail the Hudson River and inspire people to continue to clean it up and the country continued to sing and march toward instilling respect and rights for all people.
Stand up and sing was one of Pete's guiding principles. Each person is a link in a chain toward progress. Each person makes a difference. Throughout his life, Pete Seeger encouraged everyone – old and young, students and teachers – to sing out and use every nonviolent strategy to fight for Civil Rights, end the Vietnam War, and take care of our environment – clean up the Hudson River.
Pete Seeger got through and beyond despair. He picked up his banjo and reminded us all again, sing for justice! Sing with hope! Just a few years before his life's ending, as part of the inauguration of President Barack Obama (2009) Pete Seeger led over four hundred thousand people in singing "This Land Is Your Land."
Now it's our turn to sing out and continue marching the path to justice.