Little Red Rolls Away
Written by Linda Whalen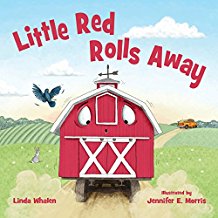 Illustrated by Jennifer E. Morris
One morning when Little Red Barn wakes up, he is dismayed to find himself alone.
Every morning Little Red wakes up to the voices of his friends: Bossy Cow's low mooing, Piglet's happy squeals, and Rooster's deep crows. Today, Little Red feels empty and alone until he hears new sounds, strange grinding and rumbling sounds? Before he knows it Little Red Barn is raised in the air and plopped on the back of a big truck and driven slowly away from home…over rivers, past cities, far from home to the unknown. Worst, what has happened to his friends?
Whalen's delightful text broaches the difficult subject of leaving the familiar and having to adjust to new experiences. It is told with such a gentle tone it would be a wonderful resource to help families prepare for changes. Morris' endearing illustrations perfectly complement the story.