Esteban de Luna, Baby Rescuer!
Written by Larissa M. Mercadó-Lopez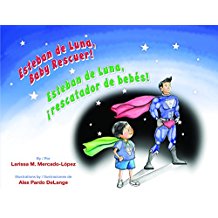 Illustrated by Alex Pardo DeLange
Young Esteban's prized possession is his green cape. He wears it every day from the park to the doctor's office and everywhere in between, except at bedtime when Mom insists that even superheroes must be clean.
Soon though, Esteban realizes the limitations of his cape: no matter how much he wants it to have super powers, he admits it cannot do magic so decides to sell it. He makes a sign and sits in the front yard for hours; however, it seems that no one wants to buy an old green cape. He sighs, but Mom takes him and his little sister to the park where he discovers that while his treasured cape may not have super powers, it can definitely solve a problem.
Mercadó-Lopez's bilingual text examines the power of a young boy's imagination in a clever, lighthearted way that will resonate with its intended audience. Pardo DeLange's lively illustrations include many details  that will pique the imaginations of many young readers.