Crazy about horses? How about horse-racing? More specifically, wild racing – cross-country, with few rules and any pushing, shoving or pulling someone off their galloping steed is fair game. HANNAH'S JOURNEY by Carmen Peone is a book any horsewoman of any age will enjoy reading.
Hannah is a girl. She races well and even wins. But with every race she runs smack into prejudice and intolerance. She's a girl! And worse, she is a white girl.
HANNAH'S JOURNEY takes place in the mountains of northeast Washington. Her dream is to race her horse, wild and free, and live with her adopted family as part of the Sinyekst people. But Hannah's own mother is against every part of this dream. It is time for Hannah to settle down and become a lady – or it's off to Montana to live with an aunt Hannah's never met.
Anyone who shares a love of horse, who enjoys reading about the west, and wants to learn more about the difficult relations between Indian and Anglo, will enjoy this engaging, fast-paced book. There is even a little romance to remind us of the angst of figuring out "who am I, who do I want to be, and with whom do I want to share my life."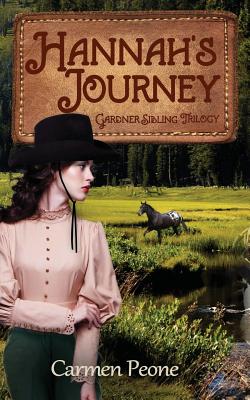 HANNAH'S JOURNEY is part of the Gardner Sibling Trilogy and author of The Heart Trilogy.