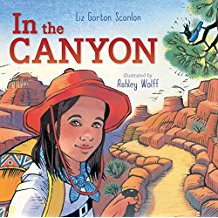 In the Canyon
Written by Liz Gorton Scanlon
Illustrated by Ashley Wolff
A young girl and her family hike from the top of the Grand Canyon to the bottom.
While hiking from the rim of the Arizona Grand Canyon down the long trail to the Colorado River, an energetic family enjoys all the scenic wonders. Narrated by the daughter who shares the beauties of this national scenic wonder with readers. She points out camp jays and hummingbirds, squirrels, spiny cactus plants, lizards, and the long and dusty trail that takes them down into the canyon. Along the way she also finds petroglyphs and is fascinated by a mule train as it passes as well as more subtle things like a lizard and a soaring Red-Tail Hawk.
Scanlon's simple text in subtle rhymes printed in large type helps young readers to decode the story by themselves. Wolff's bold use of color and sweeping double page spreads brings the text to life. Scanlon also includes detailed back matter, a real plus for teachers, librarians, and parents who would like to learn more. This is a fine vehicle to introduce young readers to the flora and fauna of one of our country's greatest treasures and might inspire others to explore nature.